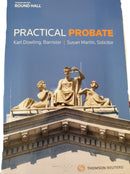 Description
Author: Karl Dowling
Author: Susan Martin
Publisher: Round Hall
Publication Date: 21/03/2020
ISBN: 9780414074811
Jurisdiction: Ireland
The Probate Office has introduced changes intended to bring a degree of clarity to probate procedures for practitioners and to increase the efficiency of the Probate Office. These new rules will reduce the likelihood of papers being queried and are intended to make the system more legally robust and relevant.
In response to these developments, Practical Probate has been specially formulated to represent a concise collection of essential principles on probate practice, written in the style of the late Eamonn G. Mongeys Probate Practice in a Nutshell.
This text presents the reader with a practical approach to the issues that practitioners face on a day-to-day basis, and provides a succinct road map, setting out the steps that need to be taken in probate practice in a straightforward and clear manner. It focuses on the core issues surrounding probate practice; in particular: the validity of wills, inheritance rights, and the extraction of grants.
Features:
* Consolidated statutory, regulatory and customary practices and procedures.
* Helpful precedent wills, oaths and other essential documentation.
* A series of helpful checklists, which assist the practitioner in identifying the correct procedure.
* Presents the nuts and bolts of probate practice and procedure in an easy-to-interpret format.
About the Authors:
Karl Dowling BL is a Barrister with a specialist practice in Probate Litigation and regularly appears before the High Court and Circuit Court. He is a Founding Member of the Probate Bar Association.
Susan Martin is a Solicitor, with a busy Dublin practice, and has significant experience in the administration of estates and probate litigation. She is an Officer of Dublin Solicitors Bar Association and a Member of the Council of the Law Society of Ireland.
Contact Us
Contact Us
LegalBooks.ie
Legal & General Shop
The Law Society Building
The Four Courts
Dublin 7
01 8725522
info@legalbooks.ie
D07 N972

VAT number: IE4814267p


Payment & Security
Your payment information is processed securely. We do not store credit card details nor have access to your credit card information.