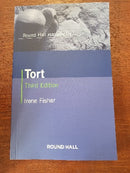 Description
Author : Irene FisherPublisher: Round HallPublication Date: 28/09/2020ISBN: 9780414078017Jurisdiction: Ireland
Round Hall Nutshells is a series of books presenting the essentials of the law in clear, straightforward language. Designed with the busy student in mind, the Nutshell is perfect for exam preparation, with brief, clear explanations of key exam topics throughout. This third edition of the Round Hall Tort Nutshell is an invaluable study aid, providing the student with the condensed principles of tort law and up to date case law and legislation.

Features:
* Condensed principles of the law of torts.
* Up-to-date and important case law developments.
* Defences and remedies are detailed for each individual tort.
* Concise application of the legal principles to supporting case law.

New to this Edition:
* Development of the Defamation Act 2009 since it was enacted in 2010, including analysis of defamatory statements made online or in different jurisdictions.
* Developments in the law of Occupiers' liability.
* Revised chapter on Employers' liability to include duties to prevent harassment and bullying in the workplace, workplace safety and case law developments.
* Revised chapter on Products liability and application of recent case law, including the meaning of "defective", the date of knowledge of the defect in the product and defences.
* New chapter on the tort of passing off.

The Nutshell is framed with particular regard to students who seek a straightforward introduction to Tort Law, as well as those revising for exams. This text provides a useful springboard for the further study of cases and commentaries in this area.
Contact Us
Contact Us
LegalBooks.ie
Legal & General Shop
The Law Society Building
The Four Courts
Dublin 7
01 8725522
info@legalbooks.ie
D07 N972

VAT number: IE4814267p


Payment & Security
Your payment information is processed securely. We do not store credit card details nor have access to your credit card information.