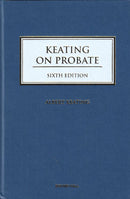 Description
Keating on Probate
Author : Albert Keating
Publisher: Round Hall
Pub Date: 31/08/2019
ISBN: 9780414088955
Jurisdiction: Ireland
Keating on Probate, sixth edition, provides a comprehensive and in-depth analysis of probate law, probate practice, administration and distribution of estates, and the practice and procedure in relation to probate motions and actions and statutory and equitable claims against estates.
Conveniently arranged in 4 parts and 46 chapters, the new, abridged edition has been redeveloped for our practitioner series and some of the key topics covered are listed below:
- The taking of instructions for the preparation of wills.
- The reading and approval of contents of wills by testators.
- The execution of wills by testators in compliance with the testamentary rules.
- The revocation and revival of wills.
- The nomination and appointment of executors and administrators.
- Applications for grants of probate, letters of administration with will annexed and letters of administration intestate.
- Applications for grants on behalf of minors by guardians, persons mentally incapable by committees and executors, or persons entitled to grants residing abroad by attorneys and the preparation of proof in relation to same and sample applications.
This new edition takes full account of:
- Relevant and recent legislation in relation to probate law.
- Rules of courts and amendments thereto in relation to probate practice.
- Recent decisions of the courts in relation to probate law and practice.
- Recent probate office reviews in relation to probate practice.
The Author
Dr Albert Keating, BCL, LLB, LLM, DLitt, BL is a barrister and author of numerous books and articles in the areas of probate law and practice, law of wills, equitable succession rights, law of will trusts and equitable property rights, construction of wills, personal representatives, will and probate precedents, probate motions and actions, succession law, jurisprudence and equity.
There is an update on this book that it is the First Supplement to the 6th edition on Keating on Probate published in March, 2021. 
Contact Us
Contact Us
LegalBooks.ie
Legal & General Shop
The Law Society Building
The Four Courts
Dublin 7
01 8725522
info@legalbooks.ie
D07 N972

VAT number: IE4814267p


Payment & Security
Your payment information is processed securely. We do not store credit card details nor have access to your credit card information.