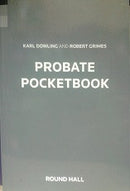 Description
Author : Karl Dowling
Publication Date: 24/07/2013
ISBN: 9781858007106

The Probate Pocketbook is your key new guide which accompanies the Irish Probate Practitioners? Handbook, providing you with concise and succinct summaries of the principals of probate practice. It is an ideal pocket-sized resource so that you have the essential information you need wherever you go.

The Probate Pocketbook guides you through the basics of probate practice and procedure.This title focuses on the core issues surrounding the practice of probate, including the validity of wills, inheritance rights and extraction of grants. This handy reference text also supplies you with practical assistance via a series of helpful checklists, flow charts and chapter summaries, which helps you identify and access the relevant practice and procedure with ease. It?s the ideal companion to the Irish Probate Practitioners? Handbook which is also available.

Key features
*Consolidated statutory, regulatory and customary practices and procedure
*A ?nutshell? approach to the issues practitioners face on a daily basis
*Succinct roadmap setting out the steps that need to be taken, including handy diagrams and flow charts to help ensure that you stay on course

ABOUT THE AUTHOR
Karl Dowling is a practising barrister specialising in wills and succession, the administration of estates, contentious and non-contentious probate litigation and trust issues. He is Committee Member of the Society of Trust and Estate Practitioners (STEP) Ireland and has written extensively for Thomson Round Hall.
Contact Us
Contact Us
LegalBooks.ie
Legal & General Shop
The Law Society Building
The Four Courts
Dublin 7
01 8725522
info@legalbooks.ie
D07 N972

VAT number: IE4814267p


Payment & Security
Your payment information is processed securely. We do not store credit card details nor have access to your credit card information.