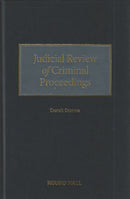 Description
New Edition available Here
Author: Derek Dunne
Publisher: Round Hall
Publication Date: 09/12/2011
ISBN: 9781858006246
Judicial Review of Criminal Proceedings provides the first dedicated and up-to-date treatment of judicial review as it applies at all stages of the criminal process.
It considers the remedies and procedure of judicial review and focuses upon the areas that have occupied the courts in recent years, such as: delay and the right to a fair trial; blameworthy prosecutorial delay; the scope of the duty to seek out and preserve evidence; the circumstances in which judicial review will lie in respect of convictions and sentences recorded in the District Court and Circuit Court; pre-trial disclosure; review of prosecutorial discretion; adverse pre-trial publicity etc.
The text also considers the impact of all important recent decisions of the Superior Courts such as PH v DPP; PM v DPP; McFarlane v DPP; Cormack & Farrell v DPP; OKeeffe v Connellan; McNulty v DPP; DS v Judge of the Southern Circuit; and Meadows v Minister for Justice, Equality and Law Reform.
Contents
-Judicial Review and the Criminal Law in Context
-Remedies, Practice and Procedure
-Judicial Review, the District Court and the Circuit Court
-Judicial Review and the Special Criminal Court
-The Right to a Fair Trial and Delay
-The Right to an Expeditious Trial and Blameworthy Prosecutorial Delay
-The Duty to Seek Out and Preserve Evidence
-Review of the Decisions and Conduct of the Prosecuting Authorities
-Precedents of Pleadings.
About the Author
Derek Dunne is a practising barrister.
Contact Us
Contact Us
LegalBooks.ie
Legal & General Shop
The Law Society Building
The Four Courts
Dublin 7
01 8725522
info@legalbooks.ie
D07 N972

VAT number: IE4814267p


Payment & Security
Your payment information is processed securely. We do not store credit card details nor have access to your credit card information.