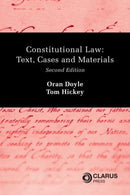 Description
Constitutional Law Text, Cases and Materials 2nd edition 
Product Description:
Authors: Dr Oran Doyle and Dr Tom Hickey
ISBN: 978-1-911611-27-1
 Publication Date: 17 September 2019

About:
Constitutional Law: Texts, Cases and Materials, Second Edition, follows the casebook method in exploring the general principles and themes of Irish constitutional law. Short excerpts from cases and academic materials are seamlessly integrated with the authors' own expert analysis.

In this thoroughly revised and updated second edition, the authors add new features aimed at making this fascinating subject even more accessible for students, practitioners and law teachers alike. It employs a "Comprehension and analysis: test yourself" tool at the beginning of each chapter, as well as recommending "Five key readings" and "Five key cases" in each chapter, thus engaging other great scholarship and material in this rapidly developing field.

Constitutional Law: Texts, Cases and Materials, Second Edition, includes wholly new chapters on the historical background to the Constitution, the political structure of government, the judicial power in the context of the political arms of government, and standards of review. It covers all significant constitutional developments up to April 2019.

This second edition is comprised of three thematic parts. The first part looks at the Irish constitutional order in a broader historical, theoretical and comparative context. The second part looks at "Institutions and the separation of powers." The third part addresses rights in Irish constitutional law.

As well as introducing key principles and themes, this casebook offers a great deal of critical insight and analysis. In doing so, it recognises that constitutional law is not just a body of abstract rules interpreted and applied by the courts. Instead, constitutional law is placed in its historical, intellectual and social context and presented as an ongoing attempt to determine the values that ought to inform governance in Ireland. The important role of the courts in this process is recognised by the central space given to extracts from all the leading constitutional law cases.

Contents include:
Part I – The Irish Constitutional Order

Key themes
Evolution and constitutional foundations
Rights in the constitutional order
Constitutional interpretation
The referendum and constitutional change
Part II – Institutions and the Separation of Powers

The political structure of government
Judges and the political arms of government
Legislative power
Executive power
Judicial power
Part III: Rights in Irish Constitutional Law

Principles of constitutional litigation
Standards of review
The Constitution and criminal Law
Equality
Personal rights
Liberty and the dwelling
The three freedoms: expression, assembly and association
The family and education
Property rights
Religion and conscience
Who should buy Constitutional Law: Texts, Cases and Materials, Second Edition
Constitutional Law: Text, Cases and Materials provides the core of any undergraduate constitutional law syllabus. It will be invaluable to students, academics and practitioners and, like its predecessor, will be a leading authority for students who require a comprehensive yet accessible guide to constitutional law.

About the Authors
Oran Doyle is Associate Professor at Trinity College Dublin, where he was Head of the School of Law from 2014-2018. He has authored and edited a number of other books on Irish constitutional law, including The Constitution of Ireland: A Contextual Analysis (Hart, 2018) and Constitutional Equality Law (Round Hall, 2004). He is published widely in the fields of comparative constitutional law, legal theory, equality and discrimination law, and constitutional transitions. Oran is the co-chair of the British-Irish Chapter of International Society of Public Law (ICON-S).

Tom Hickey is Assistant Professor at the School of Law and Government, Dublin City University and was Visiting Professor at Université Montesquieu, Bordeaux IV from 2013 through 2018. He is co-author (with Eoin Daly) of The Political Theory of the Irish Constitution: Republicanism and the Basic Law (MUP, 2015) and co-editor (with Laura Cahillane and James Gallen) of Judges, Politics and the Irish Constitution (MUP, 2017). He has published widely in the fields of constitutional theory, religious liberty, and judicial power.


Contact Us
Contact Us
LegalBooks.ie
Legal & General Shop
The Law Society Building
The Four Courts
Dublin 7
01 8725522
info@legalbooks.ie
D07 N972

VAT number: IE4814267p


Payment & Security
Your payment information is processed securely. We do not store credit card details nor have access to your credit card information.