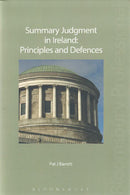 Description

Pat Barrett

ISBN13: 9781780432274
Published: December 2013
Publisher: Bloomsbury Professional (Ireland)
Country of Publication: Ireland
Format: Paperback
Summary Judgment in Ireland: Principles and Defences is a single source book that deals solely with the issue of summary judgments and is an efficient and convenient way for practitioners to research points relating to practice and procedure.

A summary judgment is a judgment usually entered in a court office or by a court official for a fixed and agreed amount of money due as a debt where the person owing the money has not answered or entered a defence to the proceedings. A summary judgment is entered without the appearance of either party in court based on affidavit filed in the court office. Having a single volume to deal solely with the issue of summary judgments is an efficient and convenient for practitioners, solicitors and barristers in particular.

Summary Judgment in Ireland: Principles and Defences describes the various situations in which the summary summons (fast-track debt collection) procedure provided for under Order 37 of the Superior Court Rules will be likely to succeed. Primary defences to this procedure, such as recent High and Supreme Court jurisprudence and precedents from other common law jurisdictions, are included.

Contents includes:
Introduction;
Summary of the procedure;
Application for summary judgment;
Undue Influence/Duress;
Agency;
Fraud/Misrepresentation;
Reckless Trading.
Table Of Contents
Chapter 1 Summary Judgment:
Procedure;
Form of High Court Summons;
Test to be Employed on an Application for Summary Judgment;
Disputes of Fact and Law;
Importance of Consistency when Hearing Related Claims;
Counterclaim and Set-Off;
Stay;
Lodgments;
Penalties;
Bond or contract under seal;
Revenue applications;
Judgment in quantum meruit;
Continuing Debts;
Contingent and Prospective Debts;
Solicitors' Fees;
Summary Judgment in Cases of Ejectment and Forfeiture;
Trusts;
Taking of accounts;
Defamation;
Continuance of Proceedings as against Administrators of an Estate;

Chapter 2 Equitable Defences: Undue Influence, Unconscionable Bargains and Duress:
Undue Influence;
Remedying Constructive Knowledge of Potential Undue Influence;
Constructive Notice of Non-Personal Relationships;
Unconscionable Bargains/Improvident Transactions;
Duress;

Chapter 3 Lenders' Duties:
Duty to Advise Customers;
Duty of Care to Customer;
Duty of Care to Vulnerable Customers;
Fiduciary Duty;
Negligent Misstatement;
Reckless Lending;
Consumer Protection;
Unfair Terms of Consumer Contracts;
Contracts Negotiated away from Business Premises;
Distance Marketing of Financial Products;

Chapter 4 Contractual Defences:
Promissory Estoppel;
Frustration;
Mistake;
Misrepresentation;
Fraudulent Misrepresentation;
Negligent Misrepresentation;
Innocent Misrepresentation;
Misrepresentation and Contracts of Surety;
Rescission;
Parol Evidence and Collateral Contracts;
Parol evidence;
Implied Terms.
Contact Us
Contact Us
LegalBooks.ie
Legal & General Shop
The Law Society Building
The Four Courts
Dublin 7
01 8725522
info@legalbooks.ie
D07 N972

VAT number: IE4814267p


Payment & Security
Your payment information is processed securely. We do not store credit card details nor have access to your credit card information.