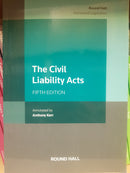 Description
The Civil Liability Acts
Author : Anthony Kerr
Publication Date: 27/10/2017
ISBN: 9780414065604

The Civil Liability Acts is a handy paperback that consolidates and annotates the Civil Liability Act 1961 and the Civil Liability (Amendment) Act 1964.
New to this edition:

All sections of the Acts have been reviewed and updated to incorporate the many judicial developments such as:

*Courtney v Our Ladys Hospital [2011] IEHC 236 (s.48)
*Tevlin v McArdle [2014] IEHC 436 (s. 34)
*Greene v Triangle Developments Ltd [2015] IECA 429 (s.27)
*Doyle v Dunne [2016] IESC 68 (s.7)
*Kieran v Dublin Port Company [2016] IEHC 603 (s.46)
*Hickey v McGowan [2017] IESC 6 (s.35)
*Cafolla v OReilly [2017] IESC 17 (ss. 16 and 17)

Section 48 is also updated by reference to S.I. No. 6 of 2014.
Contact Us
Contact Us
LegalBooks.ie
Legal & General Shop
The Law Society Building
The Four Courts
Dublin 7
01 8725522
info@legalbooks.ie
D07 N972

VAT number: IE4814267p


Payment & Security
Your payment information is processed securely. We do not store credit card details nor have access to your credit card information.