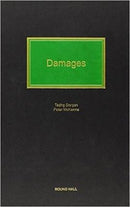 Description
Author: Tadhg Dorgan
Author: Peter McKenna
Publisher: Round Hall
Pub Date: 31/03/2021
ISBN: 9780414074842

The second edition of Damages is designed as a reference work for practitioners who deal with day-to-day litigation and advisory work. It is written to assist lawyers on discreet issues on quantum and recent practice with the calculation of damages, together with academic commentary.
The law of damages is a fast-paced and constantly changing area that straddles all aspects of the law. The first edition of this title was the first Irish publication on the issue of damages generally, and the new edition consolidates its success with fully updated Chapters taking account of the present law.
The book aims to provide practitioners with a guide to approaching and quantifying the issue of quantum. As well as providing commentary on general principles of approaching quantum such as contributory negligence, the book also deals with substantive areas. Such areas range from personal injuries and contract to more discreet areas of statutory damages and misfeasance.

The new edition provides an up-to-date reference for substantive areas of the law concerning the issue of damages, as well as dealing with the more general issues of mitigation of loss and contributory damages.
The Authors
Tadhg Dorgan BCL (NUI) Barrister-at-Law of Kings Inns Dublin, Barrister-at-Law of the Inns of Court of Northern Ireland, Middle Temple
Peter McKenna BA (Dub) M.Phil (Cantab), Barrister-at-Law
Contact Us
Contact Us
LegalBooks.ie
Legal & General Shop
The Law Society Building
The Four Courts
Dublin 7
01 8725522
info@legalbooks.ie
D07 N972

VAT number: IE4814267p


Payment & Security
Your payment information is processed securely. We do not store credit card details nor have access to your credit card information.