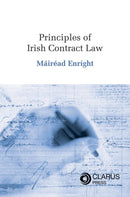 Description
Author: Máiréad Enright
Publication Date: September 2007
Principles of Irish Contract Law is the ideal source for undergraduate law students and all those interested in the study of contract law. Although this book is student-focused, outlining and explaining the main tenets of Irish Contract law, many legal practitioners will undoubtedly find this text as a great source to re-acquaint themselves with the subject.
Principles of Irish Contract Law emphasises the theory behind contract law, demystifying difficult concepts and providing a policy-driven introduction to this challenging subject.
The key cases are fully discussed in a manner which encourages students to approach the subject from a critical standpoint. Cases from other jurisdictions, especially the United States, are also discussed. The book is highly accessible and combines an informal analytical style with useful learning features such as diagrams and tables. The final two chapters focus on study and exam skills and include worked problem answers.
About the Author
Máiréad Enright, BCL (NUI) MA (Lond.) BL lectures the Law of Contract at Manchester Metropolitan University.
Contents include:
Important Ideas in Contract Law
Objective Test
Offer
Termination of Offer
Acceptance
Certainty and Completeness
Intention to Create Legal Relations
Consideration
Promissory Estoppel
Privity
Statute of Frauds
Agreements Subject to Contract
Express and Implied Terms
Exemption Clauses (Exclusion Clauses)
Misrepresentation
Disclosure
Mistake
Duress, Undue Influence and Unconscionability
Illegal Contracts
Public Policy
Restraint of Trade
Frustration
Agreement, Performance & Breach
Termination of Contract
Damages
Capacity
Contact Us
Contact Us
LegalBooks.ie
Legal & General Shop
The Law Society Building
The Four Courts
Dublin 7
01 8725522
info@legalbooks.ie
D07 N972

VAT number: IE4814267p


Payment & Security
Your payment information is processed securely. We do not store credit card details nor have access to your credit card information.