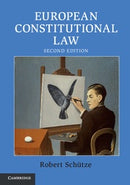 Description
Written with exceptional clarity and fully updated from the first edition, the second edition of European Constitutional Law constitutes a classic textbook for students and practitioners of European law. Using a clear structural framework, the text guides readers through all of the core constitutional topics of EU law. Extracts from classic case law are complemented with extensive and critical discussion of the theoretical and practical aspects of the European Union and its law, leading students to a deep understanding of the subject. Chapters are enriched with more than fifty colour figures and tables, which clarify complex topics and illustrate relationships and processes. New suggestions for further reading direct students to significant pieces of academic literature for deeper self-study, and a companion website with full 'Lisbonised' versions of the cases cited in the text completes the learning package.
Integrates numerous case extracts while maintaining a continuous, single-authored narrative, and combines straightforward explanations with scholarly analysis, highlighting theoretical approaches and key academic debates
A new two-colour design emphasises case extracts and enhances figures and tables, and two new appendices provide guidance on finding, reading and understanding EU law
A new companion website includes full 'Lisbonised' versions of the cases cited in the text, organised by chapter for quick and easy access
TABLE OF CONTENTS
Part I. Constitutional Foundations:
1. Constitutional history: from Paris to Lisbon
2. Constitutional nature: a federation of states
3. European law I: nature – direct effect
4. European law II: nature – supremacy/pre-emption
5. Governmental structure: Union institutions I
6. Governmental structure: Union institutions II
Part II. Governmental Powers:
7. Legislative powers: competences and procedures
8. External powers: competences and procedures
9. Executive powers: competences and procedures
10. Judicial powers I: (centralised) European procedures
11. Judicial powers II: (decentralised) national procedures
12. Judicial powers III: EU fundamental rights
Appendices.
AUTHOR
Robert Schütze, University of Durham
Robert Schütze is Professor of European Law at Durham University and Visiting Professor at LUISS - Università Guido Carli.
Contact Us
Contact Us
LegalBooks.ie
Legal & General Shop
The Law Society Building
The Four Courts
Dublin 7
01 8725522
info@legalbooks.ie
D07 N972

VAT number: IE4814267p


Payment & Security
Your payment information is processed securely. We do not store credit card details nor have access to your credit card information.