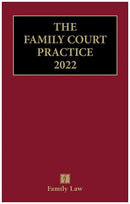 Description
Edited by: The Rt. Hon. Lord Wilson of Culworth, His Honour Judge Anthony Cleary, The Rt. Hon. Lady Black of Derwent
ISBN: 9781784734909
Previous Edition ISBN: 9781784734725
Published: May 2022
Publisher: LexisNexis Butterworths
Country of Publication: UK
Format: Hardback
The Family Court Practice (Red Book), covers the entire range of family business and contains all the essential materials you need to practice in the Family Court.
The new edition is fully updated to include the latest case-law, full coverage of new and amended legislation, Practice Directions and guidance. It also contains fully and expertly annotated statutes and rules together with scores of unique step-by-step procedural guides, which direct you effortlessly to the relevant rules and annotation.
What's new for 2022:
-       The addition of the Domestic Abuse Act 2021 with cross-referencing to it throughout
-       The incorporation of the Divorce, Dissolution and Separation Act 2020 so that both the 'old' and 'new' law are shown
-       Detailed commentary and practical guidance on all recent case law and key procedural developments in the areas of divorce, civil partnership, private/public child law, financial provision, enforcement and appeals
-       The latest amendments to the Family Procedure and Civil Procedure Rules
-       A new procedural guide about arbitration
-       The latest Practice Guidance
-       A chronology of the key developments in family law and practice
Contact Us
Contact Us
LegalBooks.ie
Legal & General Shop
The Law Society Building
The Four Courts
Dublin 7
01 8725522
info@legalbooks.ie
D07 N972

VAT number: IE4814267p


Payment & Security
Your payment information is processed securely. We do not store credit card details nor have access to your credit card information.