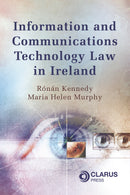 Description
Authors: Rónán Kennedy and Maria Helen Murphy 
ISBN: 978-1-905536-96-2
Publication Date: October 2017

About
The legislature and the courts rarely respond quickly to the changes facilitated by developments and advances in new technologies which, oftentimes, raise legal questions. Long-standing legal frameworks often contain assumptions regarding means of communication and modalities of possession that do not apply to digital content. As a consequence the law surrounding ICT remains in a state of flux, with significant legal 'grey areas'. Also, due to the location of a large number of international social media, online and network services companies in Ireland, this jurisdiction is becoming increasingly important for the development of information technology law worldwide. Information and Communications Technology Law in Ireland is designed to be an essential companion for undergraduate and postgraduate students who wish to develop their understanding of this diverse area of study.

Information and Communications Technology Law in Ireland is divided into thematic sections, with the first section contextualising the study of ICT and the law. Subsequent sections consider the private law implications of ICT (including intellectual property and online contracts); public law issues related to ICT (privacy, free speech and computer crime), and the applications of ICT in legal practice. While the topics covered are varied, the common effects of technological development on each area of law merit their consideration within a single text.

Information and Communications Technology Law in Ireland is designed to be accessible and is written with a practical style. Complex legal and technical material is explained in a logical manner in order to aid understanding. Moreover, each chapter includes a "Further Reading" section that directs the student to additional sources if they wish to explore an area in more depth.

In such a rapidly developing area of the law, it is essential to keep informed of recent developments. The text provides up-to-date information on key developing areas, including the General Data Protection Regulation, the Criminal Justice (Offences Relating to Information Systems) Act 2017, and crypto-currencies. Acknowledging that law and technology sometimes move at a different pace, the text also considers the possibilities that may come about in the near future.



Contents
Contextualising ICT and Law
The Development of ICT

ICT: An Overview

Governance Issues

ICT and Private Law
Intellectual Property Issues

Commercial Activity Online

Data Protection

ICT and Public Law
Privacy Issues

ICT and the Criminal Law

Freedom of Speech Online

ICT in Legal Practice
ICT in the Courts

Use of ICT by Legal Practitioners



Issues, Trends and the Future
A Dynamic and Unpredictable Future



Who Should Buy This Book?
Information and Communications Technology Law in Ireland is an essential textbook for all undergraduate and postgraduate students of ICT and related courses. Legal practitioners requiring an overview of ICT issues will also find this book as an extremely useful primer as will anyone interested in this area of law.



About the Authors
Dr Rónán Kennedy is a law lecturer at the School of Law, NUI Galway, holds a degree in commerce and a higher diploma in systems analysis from University College Galway, an LLB with first class honours from the National University of Ireland, Galway, an LLM from New York University and a PhD from University College London. He also studied for the degree of Barrister-at-Law in the King's Inns' and was called to the Bar of Ireland in 2003.

He worked as a programmer, systems analyst and network administrator from 1993 to 2000. He was Executive Legal Officer to the Chief Justice of Ireland, Mr Justice Ronan Keane, from 2000 to 2004. During this time, he was editor of "The Supreme Court of Ireland: A History", first editor of the Judicial Studies Institute Journal from 2001 to 2003, and was involved in a number of initiatives to expand the use of information technology in the courts.

He was the co-ordinator of the LLM in Law, Technology and Governance from 2008 to 2014 and was Associate Head for Development and Promotion for the School from April 2009 to April 2010.

Dr Maria Helen Murphy is a law lecturer at the School of Law, NUI Maynooth. Previously, she lectured at the Dublin Institute of Technology. Dr Murphy researches in the areas of privacy law, surveillance, information technology law, and human rights. At Maynooth University, Dr Murphy lectures Information Privacy Law and Information Technology Law at the postgraduate level, and lectures Media Law and Civil Liberties at the undergraduate level. In addition to completing her PhD at University College Cork in 2013, Dr Murphy holds a magna cum laude LLM degree from Temple University (Philadelphia), and a First Class Honours BCL (International) degree from UCC.
Contact Us
Contact Us
LegalBooks.ie
Legal & General Shop
The Law Society Building
The Four Courts
Dublin 7
01 8725522
info@legalbooks.ie
D07 N972

VAT number: IE4814267p


Payment & Security
Your payment information is processed securely. We do not store credit card details nor have access to your credit card information.