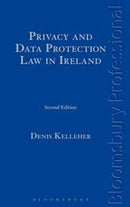 Description
Published: 21-05-2015
By Denis Kelleher
The information society has created an environment where new technologies increasingly threaten the right to privacy. Privacy and Data Protection Law in Ireland provides a detailed analysis of the law that applies in this complex and uncertain environment.
 
Privacy and Data Protection Law in Ireland covers relevant Irish legislation, in particular the Communications (Retention of Data) Act 2011 and the Criminal Justice (Money Laundering and Terrorist Financing) Act 2010.
It also includes developments in EU law such as the Lisbon Treaty and European Charter of Fundamental Rights, the EU Council Framework Decision 2008/977/JHA of November 2008 on the protection of personal data processed in the framework of police and judicial cooperation in criminal matters and the new E-Privacy Directive.
 
The new edition includes three new chapters, specifically dealing with social networking, cloud computing and criminal legislation.
 
 
Previous edition ISBN: 9781845922047
Table Of Contents
Contents
Part I: Privacy
Chapter 1 The Right to Privacy
Chapter 2 Privacy as a Constitutional and Statutory Right
Chapter 3 Privacy and the ECHR
Chapter 4 The Right to Privacy under the EU Charter of Fundamental Rights
Chapter 5 Data Privacy at Common Law and Equity
Part II: Data Protection Act (DPA): Introduction, Scope and Definitions
Chapter 6 The Right to Data Protection
Chapter 7 Scope and Application of Data Protection Law
Chapter 8 Definitions
Part III: Data Protection Act: The Processing of Personal Data
Chapter 9 Legitimate Bases for Data Processing
Chapter 10 The Principles of Data Protection
Chapter 11 Data Security
Chapter 12 The Processing of Sensitive Personal Data
Part IV: Rights, Supervision and Enforcement
Chapter 13 Subject Rights
Chapter 14 The Data Protection Commissioner
Chapter 15 Registration
Chapter 16 The Enforcement of Data Protection
Chapter 17 Damages
Part V: Data Protection in Practice
Chapter 18 International Transfers of Data
Chapter 19 Direct Marketing and Spam
Chapter 20 Privacy at Work
Chapter 21 Digital Identities and Anonymities
Chapter 22 Surveillance
Chapter 23 Reform
Reviews
"Kelleher's work is rightly considered the most comprehensive reference book for Irish privacy and data protection practitioners...At a time when individuals are becoming more aware of privacy rights and their ability to personally vindicate them, this update is particularly timely." –  John O'Brien, Law Society Gazette
Contact Us
Contact Us
LegalBooks.ie
Legal & General Shop
The Law Society Building
The Four Courts
Dublin 7
01 8725522
info@legalbooks.ie
D07 N972

VAT number: IE4814267p


Payment & Security
Your payment information is processed securely. We do not store credit card details nor have access to your credit card information.