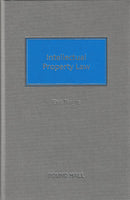 Description
Author : Eva Nagle
Publisher: Round Hall
Publication Date: 28/11/2012
ISBN: 9781858006710
Jurisdiction: Ireland

Intellectual Property Law by Eva Nagle is a new title that provides a comprehensive and focused guide to each of the subjects of intellectual property law. It aims to explain the principles encompassing copyright law, trademark law, patent law, the law of confidence and design law and to address the key case law, legislation, the most recent developments and the areas of controversy related to each subject in a clear and concise manner.
The text also contains a comparative component, discussing relevant case law from other common law and EU jurisdictions.

Get to grips with Intellectual Property Law with this new title. It:
* Deals with the available defences and remedies in particular in relation to copyright law, trade mark infringement, passing off, and breach of confidence,
* Walks you step by step through the trade mark registration process in Ireland and the EU.
* Examines the absolute and relative grounds for a refusal to register a trademark
* Provides a detailed examination of how the offence of Passing Off may be proved.
* Includes direction on relevant practice and procedure in Intellectual Property Disputes.
* Looks at the transnational dimension which is an increasingly common element of IP disputes.

KEY FEATURES
* Concise, clear and accessible ? Helping you to quickly find the answers you need.
* Discusses recent case law and changes in the area of Irish copyright legislation including; European Union (Copyright and Related Rights) Regulations, S.I. No. 59 of 2012.
* Deals with the proposals for reform of Irish copyright law.
* Discusses recent case law on trade marks and passing off before the Irish Courts.
* Bring you up to date with analysis of contemporary issues including: The tension between freedom of expression/other fundamental rights and copyright law; The tension between freedom of expression and trade mark law; The issues of comparative advertising, keyword advertising and domain names in trade mark law; Personality and character rights in trade mark law; The protection of biotechnological inventions ; The role of morality in patent law.

ABOUT THE AUTHOR
Eva Nagle BL is a practicing barrister and lectures in the area of intellectual property law.
Contact Us
Contact Us
LegalBooks.ie
Legal & General Shop
The Law Society Building
The Four Courts
Dublin 7
01 8725522
info@legalbooks.ie
D07 N972

VAT number: IE4814267p


Payment & Security
Your payment information is processed securely. We do not store credit card details nor have access to your credit card information.