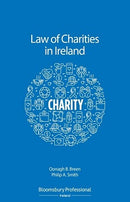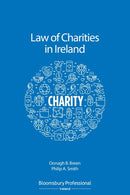 Description
By: Oonagh B Breen, Philip Smith
Est Published: 31-10-2019
Format: Paperback
Edition: 1st
ISBN: 9781847663252

About Law of Charities in Ireland
This timely handbook details how all charities in Ireland can ensure that they are legally compliant with all aspects of charities law. This complex area is clearly and concisely explained by two leading experts in the charity law field.
As well as fully outlining the legislation, including detailed coverage of the Charities Act 2009, this handbook considers the life cycle of a charity in Ireland: from its creation and registration to its governance and reporting obligations right through to its relations with other charities, at home or abroad, and the demise or dissolution of a charity. Examining the role of the charity trustee in both corporate and unincorporated charities, this book details the key relationships with relevant statutory agencies from the Charities Regulator through to Revenue and the Companies Registration Office. Setting out for the first time the practical issues facing charities operating in Ireland, this handbook is vital for any person concerned with the regulation of charities in this jurisdiction 
Contact Us
Contact Us
LegalBooks.ie
Legal & General Shop
The Law Society Building
The Four Courts
Dublin 7
01 8725522
info@legalbooks.ie
D07 N972

VAT number: IE4814267p


Payment & Security
Your payment information is processed securely. We do not store credit card details nor have access to your credit card information.