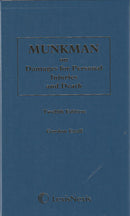 Description
Acclaimed by practitioners for its clear and practical style, this best-selling title provides a complete statement of the principles of law on the assessment of damages together with illustrations of typical awards that can be used as general guides in comparable cases.

The new edition offers authoritative, up-to-date coverage of the subject and includes useful practical guidance, citing numerous recent cases as well as quantum tables to assist practitioners in assessing levels of damages.
Contents:
1. Damages in General
2. Overview of the types of damages in personal injury cases
3. Remoteness of damage and causation
4. Mitigation of Damages
5. Special forms of damages
6. Damages for personal loss: disablement, pain suffering and loss of amenity - what is being compensated?
7. Damages for shock, psychiatric injury and workplace stress
8. Assessing general damages
use of comparable vases and the Judicial Studies board Guidelines
9. Damages for pecuniary loss: past loss and multipliers
10. Claims for loss of earnings and employment prospects
11. Claims for care and nursing expenses
12. Other heads of damages
13. Deductions and set-offs against financial loss
14. Statutory recoupment of DSS benefits
15. Damages on death : basic principles
16. Valuing a dependency claim
17. Non-dependancy damages in fatal cases
18. Damages and procedure
19. Provisional Damages
20. Interest on Damages
21. Periodical Payments
22. Damages in anticipation of death -past and future
Appendices
I. Guidelines for the Assessment of General Damages in Personal Injury Cases (9th edition)
II. The Ogden Tables 7th edition"
 
Contact Us
Contact Us
LegalBooks.ie
Legal & General Shop
The Law Society Building
The Four Courts
Dublin 7
01 8725522
info@legalbooks.ie
D07 N972

VAT number: IE4814267p


Payment & Security
Your payment information is processed securely. We do not store credit card details nor have access to your credit card information.