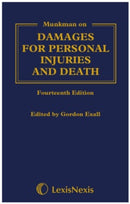 Description
The best-selling title on the assessment of damages. Acclaimed as one of the standard texts on damages since it was first published in 1956, this edition has not rested on its laurels. The book has been restructured and rewritten to ensure ease of use of busy practitioners.

Munkman and Exall is the text that constantly reminds practitioners how they can use the basic elements of the law of damages to assist their clients bring, or defend, a personal injury claim. The first principles of damages are essential elements in even the most complex of claims. Recognised by practitioners for its clear and practical style, this best-selling title provides a complete statement of the principles of law on the assessment of damages together with illustrations of typical awards that can be used as general guides in comparable cases.

This edition takes account of:* The changes in the discount rate* Issues in relation to claims for accommodation* The fatal accident multiplier* Damages in anticipation of deathWith totally new chapters on the law of fundamental dishonesty and drafting Schedules of Damages this edition remains authoritative, practical and essential reading for all those involved in personal injury litigation.
Contact Us
Contact Us
LegalBooks.ie
Legal & General Shop
The Law Society Building
The Four Courts
Dublin 7
01 8725522
info@legalbooks.ie
D07 N972

VAT number: IE4814267p


Payment & Security
Your payment information is processed securely. We do not store credit card details nor have access to your credit card information.