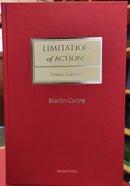 Description
By: Martin Canny
ISBN13: 9780414109544
Previous Edition ISBN: 9780414056541
Published: December 2022
Publisher: Round Hall Press
Country of Publication: Ireland
Format: Hardback
The new edition of limitation of actions provides those advising on the law with a comprehensive and definitive analysis of the limitation of actions and the time limits applicable to civil proceedings.
New to this Edition:
Coverage of recent significant judgments on property damage and economic loss claims
Limitation rules applicable to personal injuries actions continue to lead to significant litigation, including on "date of knowledge"
Recent case law on the disability provisions relating to child sexual abuse claims; and judgments discussing the Assisted Decision-Making (Capacity) Act 2015
All recent case law on property cases is discussed
New sections deal with fraudulent conveyance claims under s.74(3) of the LCLRA 2009 and time limits for complaints to the FSPO
Judgments on unresolved limitation issues such as the limitation period for "shortfall claims", for the execution of judgments, and the question of when the contract period starts to run in loan and professional services claims
Recent judgments considering the constitutionality of several limitation provisions
Amendments to the 1957 Act, including for claims under the EU (Protection of Trade Secrets) Regulations 2018 and for damages claims under the Competition Act 2002
A replacement s.50 was substituted into the PIAB Act 2003 in 2019, considered by Butler J. in Ojewale v Kearns (2021, HC)
Section 18 of the Mediation Act 2017 now provides for a limitation period to pause during the period of any mediation
The Criminal Injuries Compensation Scheme rules were amended in 2021, with a shorter time limit now applying to claims
Various limitation issues have led to judgments on the Athens Convention, Admiralty actions, Regulation (EC) 261/2004, and the Hague-Visby Rules
Subjects:
Irish Law
Contents:
PART I - INTRODUCTION AND GENERAL
1. Introduction and General Principles
2. Procedural Issues: Time, Pleadings, Amendment, Renewing Summonses and Foreign Limitation Periods
3. Extensions of Time outside the Acts - Estoppel and Unconscionable Behaviour
4. Curtailing the Limitation Period outside the Acts - Dismissal of Actions for Lapse of Time Causing Fundamental Unfairness or Want of Prosecution
5. Enforcement of Judgments
PART II - GENERAL EXTENSIONS TO THE LIMITATION PERIOD
6. Disability: Minors, Persons of Unsound Mind and Victims of Child Sexual Abuse
7. Acknowledgment and Part-Payment
8. Fraud, Concealment and Mistake
PART III - LAND, CONTRACT, UNJUST ENRICHMENT AND TORT
9. Real Property
10. Actions in Contract
11. Unjust Enrichment
12. Tort (other than Personal Injuries)
13. Personal Injuries Actions
PART IV - EQUITY AND ESTATES
14. Breach of Trust, Breach of Fiduciary Duty and Actions for an Account
15. Claims for Equitable Relief and the Defences of Laches and Acquiescence
16. Death, Succession and Personal Representatives
PART V - MISCELLANEOUS OTHER LIMITATION PROVISIONS
17. Carriage of Goods and Passengers by Air, Sea, Road and Rail
18. Admiralty and Maritime
19. Arbitration, Adjudication, Mediation and Expert Determination
20. Partnership, Bankruptcy, Company Law and Corporate Insolvency
21. Contribution Actions and Third Party Proceedings
22. Actions to Recover a Sum of Money Due under Any Enactment and Other Causes of Action Arising under Statute
23. Criminal Injuries, Malicious Injuries, and Garda Compensation Claims
24. European Union Law, the European Convention on Human Rights and the Constitution of Ireland
25. Employment
26. Forfeiture and Proceeds of Crime
27. Revenue Claims
PART VI - Appendices
Schedule of Limitation Periods
Contact Us
Contact Us
LegalBooks.ie
Legal & General Shop
The Law Society Building
The Four Courts
Dublin 7
01 8725522
info@legalbooks.ie
D07 N972

VAT number: IE4814267p


Payment & Security
Your payment information is processed securely. We do not store credit card details nor have access to your credit card information.