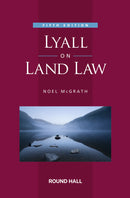 Description
Noel McGrath
ISBN: 9780414111790
Previous Edition ISBN: 9780414066342
Published: October 2023
Publisher: Round Hall Press
Country of Publication: Ireland
Format: Paperback
The fifth edition of Lyall on Land Law builds on the strengths of previous editions and provides practitioners and students with a comprehensive and detailed analysis of all the principal features of Irish land law.
Key Features:
- A comprehensive account of Irish land law and its historical development.
- Full coverage of all the key legislative measures including the Land and Conveyancing Law Reform Acts 2009-2021.
- Full coverage of landlord and tenant law including Deasy's Act, the Landlord and Tenant (Amendment) Act 1980 and the Ground Rents scheme.
- Detailed dedicated chapters covering residential tenancies and multi-unit developments. An in-depth analysis of succession law.

This new edition of Lyall on Land Law provides practitioners and students with a fully updated and comprehensive overview of Irish land law. Significant changes include:
- A fully updated chapter on easements to take account of the changes made by the Land and Conveyancing Law Reform Act 2021.
- A new chapter on residential tenancies sets out an up-to-date account of the law of residential tenancies.
- Full coverage of recent changes to the Ground Rents legislation.
- A new chapter has been added dealing with multi-unit developments.
Features numerous cases related to land law in Ireland and the UK decided since the 2018 edition.

Subjects:

Irish Law
Contents:
1. Introduction
2. Land
3. Possession
4. Estates
5. Tenure
6. Equity
7. Registration of Deeds and Title
8. Fee Simple
9. Fee Farm Grants
10. Fee Tail
11. Life Estates
12. Future Interests and the Rules Against Remoteness
13. Powers
14. Trusts of Land
15. The Irish Land Purchase Acts
16. Co-ownership
17. Family Property
18. Licences, Estoppel and Constructive Trusts
19. Landlord and Tenant
20. Statutory Control and Enlargement of Tenancies
21. Residential Tenancies and Controlled Dwellings
22. Covenants
23. Easements and Profits
24. Mortgages
25. Multi-unit Developments
26. Adverse Possession
27. Succession
Index
Contact Us
Contact Us
LegalBooks.ie
Legal & General Shop
The Law Society Building
The Four Courts
Dublin 7
01 8725522
info@legalbooks.ie
D07 N972

VAT number: IE4814267p


Payment & Security
Your payment information is processed securely. We do not store credit card details nor have access to your credit card information.