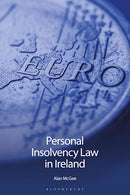 Description
By: Alan McGee (Author)
Published: 27/03/2023
Format: Paperback
Edition: 1st
ISBN: 9781526525338
Publisher    Bloomsbury Publishing
Personal insolvency law can be a complex area for practitioners and this title will guide you through the Personal Insolvency process which was introduced to Ireland following the last economic crash by way of The Personal Insolvency Act 2012. The Insolvency Service of Ireland was established in 2013 and they began processing insolvency applications in the last quarter of 2013. The process was slow to take off as the banks held a de facto veto on the process and so, the Act was amended in 2015 to allow for an appeal process. Since then a large body of High Court jurisprudence has been developed (55 delivered decision to date). This is the first text to explain the development of the law in light of court jurisprudence and legislative amendments. The High Court jurisprudence has developed to such an extent that this title will be a must-have for any practitioner. It includes a comprehensive overview of the The Personal Insolvency Amendment Act 2021, case analysis and a guide and tips for practitioners navigating this tricky area of law. The author, Alan McGee, is a solicitor and personal insolvency practitioner with vast experience in the area.
Table of Contents
Index
Chapter 1 Introduction
Chapter 2 General Eligibility
Chapter 3 Application for protective certificate
Chapter 4 Effect of issue of protective certificate
Chapter 5 Actions to be taken by personal insolvency practitioner following issue of protective certificate and requirements for a PIA
Chapter 6 Secured creditors and Personal Insolvency Arrangement
Chapter 7 Principal private residence in Personal Insolvency Arrangement
Chapter 8 Valuation of security
Chapter 9 Creditors' Meetings
Chapter 10 Steps to be taken following approval of Personal Insolvency Arrangement
Chapter 11 Court review of proposed Personal Insolvency Arrangement
Chapter 12 Classes of Creditors
Chapter 13 Relevant Debt
Chapter 14 Effect & Operation of Personal Insolvency Arrangement
Chapter 15 Variation of Personal Insolvency Arrangement
Chapter 16 Variation of Personal Insolvency Arrangement confirmed by order under section 115A
Chapter 17 Grounds of challenge by creditor to coming into effect or variation of Personal Insolvency Arrangement & Excessive Pension Contributions
Chapter 18 Terminations of Personal Insolvency Arrangements
Chapter 19 The Role of the PIP
Chapter 20 Costs
Chapter 21 Powers of Specialist Judges of the Circuit Court
Chapter 22 Debt Settlement Arrangements
Chapter 23 Debt Relief Notices
Appendix 1 PIA Protocol
Appendix 2 ISI Protocol Principles
Appendix 3 Revenue Tax and Duty Manual Procedures for Personal Insolvency Caseworking
Appendix 4 Court Forms
Contact Us
Contact Us
LegalBooks.ie
Legal & General Shop
The Law Society Building
The Four Courts
Dublin 7
01 8725522
info@legalbooks.ie
D07 N972

VAT number: IE4814267p


Payment & Security
Your payment information is processed securely. We do not store credit card details nor have access to your credit card information.