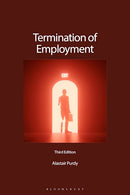 Description
Alastair Purdy
ISBN13: 9781526524508
Previous Edition ISBN: 9781847667205
To be Published: 11/2023
Format: Paperback


Containing key forms and precedents, this book guides you through the legal aspects of employment termination and deals with the notice that must be given, the forms that must be filled out, the various options open to claimants and the penalties for non-compliance.
The third edition includes:
Changes brought in by the Workplace Relations Act 2015 and the Workplace Relations (Miscellaneous Provisions) Act 2021.
A new chapter covering the Protected Disclosures Act 2014 (whistleblowing legislation)
Key decisions considered include:
Zalewski V Adjudiction Officer [2021] IESC 24
Minister for Justice, Equality and Law Reform v the Commissioner of an Garda Siochana [2017] IESC 43
Grenet v Electronic Arts Ireland Ltd [2018] IEHC 786
Baranya v Rosderra Irish Meats Group Ltd [2020] IEHC 56
Subjects:
Irish Law
Contents:
Chapter1: The Institutional Framework
Rights Commissioner
Employment Appeals Tribunal
Equality Tribunal
Labour Court
National Employment Rights Authority
Circuit Court
High Court
Practical Issues for Employers to consider in respect of each Forum
Chapter 2: Minimum Notice and Terms of Employment Acts 1973–2005
Purpose
Application
Notice Period
Continuous Service
Computable Service
What Constitutes Pay?
Notice to Employers
Waiver and Payment in Lieu of Notice
No Entitlement to Notice
Minimum Notice and the Payment of Wages Act 1991
Leave and Minimum Notice
Extending the Notice Period
Rights and Duties of Employees During the Notice Period
Notice must be Specific
Withdrawal of Notice
Disputes and Redress
Wrongful Dismissal and Notice
Minimum Notice and Redundancy
Minimum Notice in Practice
Chapter 3: Unfair Dismissal
Preliminary Requirements
Exclusions
Onus of Proof
Unfair Dismissals
Dismissals in accordance with Acts other than the Unfair Dismissals Act
Fair Dismissals
Constructive Dismissal
Surveillance of Employees/use of Private Investigators
Importance of Procedures
Contact Us
Contact Us
LegalBooks.ie
Legal & General Shop
The Law Society Building
The Four Courts
Dublin 7
01 8725522
info@legalbooks.ie
D07 N972

VAT number: IE4814267p


Payment & Security
Your payment information is processed securely. We do not store credit card details nor have access to your credit card information.