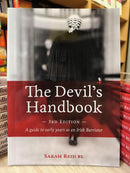 Description
By Sarah Reid BL
ISBN: 9781916620155
Edition: 3rd edition
Published: 10/2023
Don't Panic!
Your Survival guide to life in the Law Library.
This book is for law student, those considering a career at the Irish Bar, Devils, junior Barristers, or anyone looking to know more about the profession. It can be read in a single sitting, in parts as needed, or periodically reviewed.
Particularly focused towards Devils - those in their first year of practice at the Bar - this book strives to provide them with the knowledge, tips, advice, common pitfalls, reassurance, and stress-relief necessary to ensure they can start their career on the best footing possible. 
TOPICS COVERED INCLUDE:
A history of the profession and its customs.
Teh basics - from navigating the courts to legal attire.
Guidance from members of the Bench.
Practical issues when appearing before  the Court.
Expert advice on managing your financial affairs.
Sample Fee notes, Civil and Criminal attendance.
Answers to questions you are too afraid to ask. 
Tips from a recent Devil and more experienced practitioners. 
ABOUT THE AUTHOR
Sarah reid is a practicing barrister specialising in Medical Law. She lectures in Trinity College Dublin and was called to the Bar in 2008.
Additional contributions from Aran Grealish BL, called to the bar in 2022. 
Contact Us
Contact Us
LegalBooks.ie
Legal & General Shop
The Law Society Building
The Four Courts
Dublin 7
01 8725522
info@legalbooks.ie
D07 N972

VAT number: IE4814267p


Payment & Security
Your payment information is processed securely. We do not store credit card details nor have access to your credit card information.