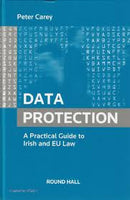 Description
This book by Peter Carey provides a practical guide to Irish data protection law and its application in practice. It will be a useful addition to the limited literature that is available on this subject.?
Billy Hawkes, Data Protection Commissioner, September 2010, in the foreword to Data Protection: A Practical Guide to Irish and EU Law by Peter Carey.

This title helps you:

* Obtain and process information fairly.
* Use and disclose the data according to the law.
* Understand your obligations in relation to accuracy, completeness and keeping the data up to date.
* Ensure that the data that you hold is adequate, relevant and not excessive.
* Understand the time limitations related to retaining data.
* Ensure your organisation uses appropriate security measures.

Clear and concise explanations
* Written in non-technical language, making it easy to understand the law as it applies to your organisation.
* Gives you practical advice and step-by-step procedures.
* Written by a data protection expert.

Contents: Introduction to the Law; Terminology; Registration; Fair, Lawful and Legitimate Processing; Compatibility, Relevance, Excessiveness,; Accuracy and Retention; Sensitive Personal data; Data Security; Data Exports; The Rights of Individuals; Exemptions; Outsourcing Personal Data Processing; Electronic Communication; Enforcement. Plus useful appendices including: Data Protection Directive (95/46/EC); E-Privacy Directive (2002/58/EC)and Electronic Communications Network and Services Regulations 2003

Peter Carey is a lawyer and leading expert in data protection law. He is a founder of PDP,
Ireland?s leading provider of compliance services in information law. Peter has written extensively on data protection law. He is a consultant with Charles Russell and a Visiting Fellow at the London School of Economics.
Contact Us
Contact Us
LegalBooks.ie
Legal & General Shop
The Law Society Building
The Four Courts
Dublin 7
01 8725522
info@legalbooks.ie
D07 N972

VAT number: IE4814267p


Payment & Security
Your payment information is processed securely. We do not store credit card details nor have access to your credit card information.