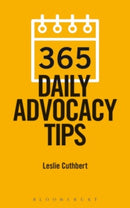 Description
"This book is a good idea...What I like is there will be one idea every day - and only one. Your mind will not get jumbled. Think on what you read....

Some ideas you will like. Others may not work for you. With advocacy, this is always the way.

But the point is to try things out - one day at a time."Iain Morley QC, author of The Devil's Advocate, from the Foreword to 365 Daily Advocacy Tips365 Daily Advocacy Tips is packed with pithy, serious, amusing, and thought-provoking tips for each day of the year, from a refreshingly diverse range of sources. Providing a fascinating insight into the principles of good advocacy, it also contains essential knowledge of related topics such as how people make decisions, indicators of credibility and the 'rules' of argument and rhetoric. Unlike most texts on advocacy 365 Daily Advocacy Tips provides an insight to psychology and how to break down the rules of argument and rhetoric.

It also covers acronyms to help remember techniques, useful quotes from history and literature that can be used in cases and references to other texts both legal and non-legal. Lengthy and studious volumes of advocacy have their place, but sometimes just one morsel of advice is needed to change an entire day's work. This calendar of tips and tales from the world of advocacy will prove an able companion for every advocate serious about continuous and incremental improvement in their knowledge, skill and practice.
Contact Us
Contact Us
LegalBooks.ie
Legal & General Shop
The Law Society Building
The Four Courts
Dublin 7
01 8725522
info@legalbooks.ie
D07 N972

VAT number: IE4814267p


Payment & Security
Your payment information is processed securely. We do not store credit card details nor have access to your credit card information.