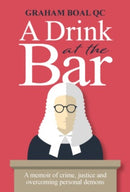 Description
Author: Graham QC Boal
Format: Hardback 288 pages
Publisher: Quiller Publishing Ltd
Imprint: Quiller Publishing Ltd
ISBN: 9781846893452
Published: 17 Jun 2021
A Drink at the Bar: A memoir of crime, justice and overcoming personal demons is the witty, opinionated and revealing memoirs of Judge Graham Boal QC, a criminal barrister for thirty years before serving as a judge for nine years until his retirement as a Permanent Judge at London's Central Criminal Court, the Old Bailey, in 2005. Boal's career highlights included his being the legendary George Carman's junior in the Liberal leader Jeremy Thorpe's trial for conspiracy to murder in 1979, leading for the Crown at the Appeal of the Birmingham Six in 1991 and becoming First Senior Treasury Counsel. His memories of key cases in his career are fascinating but his day-to-day experiences, and the underlying legal issues and happenstance, are every bit as revealing and interesting.
Boal has been described as 'clubbable', a man who enjoys cricket, golf and life in a Norfolk village, but as his brilliant career progressed, he found himself increasingly dependent on the demon alcohol. He went into treatment for alcoholism and depression in 1993, and has been a recovering alcoholic ever since, including his years as a judge at the Old Bailey, the court at which most of the most serious criminal cases in the country are tried. This intriguing memoir reveals the many inside stories of classic criminal cases and the author is unstinting in his analysis of his professional achievements and personal struggles.
This will be an essential read for all those interested in legal and political issues and the toll that the pressures of high office can put on one's personal life and wellbeing. The author is now a trustee and board member of WDP, a leading addiction charity.
Contact Us
Contact Us
LegalBooks.ie
Legal & General Shop
The Law Society Building
The Four Courts
Dublin 7
01 8725522
info@legalbooks.ie
D07 N972

VAT number: IE4814267p


Payment & Security
Your payment information is processed securely. We do not store credit card details nor have access to your credit card information.