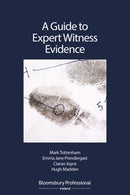 Description
Published: 26-09-2019
Format: Paperback
Edition: 1st
ISBN: 9781847667175
A Guide to Expert Witness Evidence is a uniquely comprehensive exploration of expert witness evidence in Ireland.
This new book places the expert witness in context, giving an overview of the Irish legal system both civil and criminal, and the different types of quasi-judicial tribunals and arbitration/mediation procedures.
Once placed in this context, the practicalities of the expert witness' role are explored. The book explains who can be an expert witness, the scope and the limits of evidence given by expert witnesses, and the function and duty of expert witnesses. A key part of the book examines the role of the expert in a pre-trial context, including report writing, as well as the expert giving evidence in court. The book then examines experts in various contexts, whether in the commercial courts, family law, local authority disputes, or criminal, medical and engineering trials.
The book is not only aimed at lawyers but also potential expert witnesses. In this way the book is a truly comprehensive guide to expert witness evidence, detailing not only the background and the logistics but also the practicalities.
Table of Contents
Chapter 1: General
Chapter 2: Types of Expert Witness
Chapter 3: Duties of Expert Witnesses
Chapter 4: Conflicts of Interest
Chapter 5: Communications Between Legal Teams and Expert Witnesses
Chapter 6: Dangers of Expert Evidence
Chapter 7: Admissibility of Expert Evidence
Chapter 8: Expert Reports
Chapter 9: Expert Evidence at Different Stages of the Trial Process
Chapter 10: Types of Expert Evidence
Chapter 11: Types of Hearing – Procedural Rules
Chapter 12: Alternative Dispute Resolution
Chapter 13: Misconduct by Expert Witnesses
Chapter 14: Taxation of Costs of Expert Evidence
Essay: 'The Role of the Expert Witness' (1999) Adrian Hardiman SC (later Mr Justice Hardiman of the Supreme Court)
Appendix 1: Template Letter of Retainer for Proposed Expert Witness
Appendix 2: Template of Report by Expert Witness
Appendix 3: Template of Joint Report Following Meeting Between Experts
Appendix 4: Rules on Expert Evidence
Appendix 5: Codes of Conduct for Expert Witnesses – Australia and Canada
Appendix 6: Draft Report Case Study (by John Garrett, consulting engineer)
Contact Us
Contact Us
LegalBooks.ie
Legal & General Shop
The Law Society Building
The Four Courts
Dublin 7
01 8725522
info@legalbooks.ie
D07 N972

VAT number: IE4814267p


Payment & Security
Your payment information is processed securely. We do not store credit card details nor have access to your credit card information.