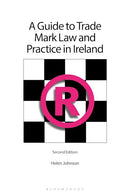 Description
Helen Johnson 
Published: 13 Apr 2023
Format: Paperback
Edition: 2nd
ISBN: 9781526517654


Introducing the practice and procedure of trade marks in Ireland and at the EU Intellectual Property Office (EUIPO), this book steers clear of confusing legal jargon, explaining the main trade mark principles clearly and concisely.
Several new chapters have been added to the Second Edition, addressing topics such as trade mark searching, online infringement and trade mark protection post-Brexit. Recent Irish legislation is also covered:
- European Union (Trade Marks) Regulations 2018 (SI 561/2018)
- Trade Marks (Amendment) Rules 2018 (SI 562/2018)
- Trade Marks Act 1996 (Community Trade Mark) (Amendment) Regulations 2018 (SI 563/2018)
- Trade Marks (Amendment) Rules 2019 (SI 588/2019 and 628/2019)
- Copyright and Other Intellectual Property Law Provisions Act 2019
- Public Health (Standardised Packaging of Tobacco) Act 2015
Notable authorities are also considered, such as:
- Galway Free Range Eggs Ltd v O' Brien and Ors [2016] IEHC 249
- Nutrimedical BV & anor v Nualtra Ltd [2016] IEHC 261; [2017] IEHC 253
- Aldi v Dunnes Stores [2019] IESC 41
- Cartier International & Ors v British Sky Broadcasting Limited & Ors [2014] EWHC 3354 (Ch), [2016] EWCA Civ 658 and [2018] UKSC 28
- Sky Ltd & Ors v Skykick UK Ltd & Anor [2020] EWHC 990 (Ch) and [2021] EWCA Civ 1121
- Aviareto Ltd v Global Closing Room Ltd [2021] IEHC 377
This is an indispensable guide for lawyers, those working in the area of IP, candidates intending to sit the Trade Mark Agent exam at the Intellectual Property Office of Ireland, sole traders, entrepreneurs and anyone wanting to protect their brand.
Table of Contents
INTRODUCTION AND APPLICATION FOR REGISTRATION
Chapter 1 What is Intellectual Property?
Chapter 2 The Law and Changes at EU Level
Chapter 3 Trade Marks and Pre-Filing Issues
Chapter 4 The Register
Chapter 5 Trade Mark Searching
Chapter 6 The Irish Application
Chapter 7 The European Trade Mark Application
Chapter 8 The International Application
EXAMINATION OF AN APPLICATION
Chapter 9 Absolute Grounds for Refusal
Chapter 10 Registering Conventional and Non-Conventional Signs
Chapter 11 Relative Grounds for Refusal
Chapter 12 State Emblems, Protected Marks and Well-Known Marks
Chapter 13 Publication
OBJECTING TO REGISTRATION
Chapter 14 Observations
Chapter 15 The Opposition process in Ireland
Chapter 16 The Opposition process at the EUIPO
Chapter 17 Proof of Use in Oppositions
Chapter 18 Bad Faith
Chapter 19 Appeals
Chapter 20 Conversion of an EUTM
Chapter 21 Transformation of an International Application
ENFORCEMENT OF RIGHTS
Chapter 22 Infringement
Chapter 23 Passing Off
Chapter 24 Main Defences
Chapter 25 Other Defences (Comparative advertising, exhaustion and recently introduced defences)
Chapter 26 Remedies and Jurisdiction
RESTRICTING UNAUTHORISED TRADE MARK USE ONLINE AND IN TRANSIT
Chapter 27 Online Infringement
Chapter 28 Web-Blocking Injunctions
Chapter 29 Trade Marks and Domain Names
Chapter 30 Anti-Counterfeiting and Customs
Chapter 31 The Doctrine of Exhaustion and the Law of Parallel Imports
REMOVAL OF A TRADE MARK FROM THE REGISTER
Chapter 32 Revocation
Chapter 33 Invalidity
Chapter 34 Surrender
DEALING IN TRADE MARKS
Chapter 35 Registration and Matters Affecting Trade Marks
Chapter 36 Renewals and Restoration
Chapter 37 Assignments, Licences and Recordals
Chapter 38 The Controller
OTHER MARKS
Chapter 39 Protected Geographical Indications, Protected Designations of Origin, Traditional Specialities Guaranteed
Chapter 40 Certification and Collective Trade Marks
OTHER
Chapter 41 Trade Mark Protection post Brexit
Chapter 42 An Overview of the Main Markets
Contact Us
Contact Us
LegalBooks.ie
Legal & General Shop
The Law Society Building
The Four Courts
Dublin 7
01 8725522
info@legalbooks.ie
D07 N972

VAT number: IE4814267p


Payment & Security
Your payment information is processed securely. We do not store credit card details nor have access to your credit card information.