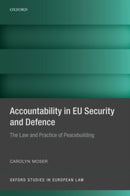 Description
Currently, some 2,500 civilian experts work across Europe, Africa, and Asia in ten ongoing civilian missions launched under the Common Security and Defence Policy (CSDP). Mandates cover a broad range of multidimensional tasks, such as rule of law support, law enforcement capacity building, or security sector reform. Numerous (recent) incidents from the field underscore that there are serious institutional as well as procedural weaknesses and irregularities tied toaccountability in these EU peacebuilding missions.

This title offers a comprehensive legal analysis and empirical study of accountability concerning the Union's peacebuilding endeavours, also referred to as civilian crisis management. Along with examining the governance credentials of EU peacebuilding, the monograph thoroughly scrutinizes de jure and de facto accountability arrangements of political, legal, and administrative nature existing in the domestic sphere, at EU level, and across levels. With a view to providing for a nuanced picture,the assessment further distinguishes between different accountability finalities and evaluates the appropriateness of existing accountability arrangements in civilian crisis management based on a combination of quantitative and qualitative criteria.
Contact Us
Contact Us
LegalBooks.ie
Legal & General Shop
The Law Society Building
The Four Courts
Dublin 7
01 8725522
info@legalbooks.ie
D07 N972

VAT number: IE4814267p


Payment & Security
Your payment information is processed securely. We do not store credit card details nor have access to your credit card information.