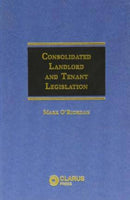 Description
Mark O'Riordan, Anthony McBride
ISBN: 9781905536078
Publisher: Clarus Press Ltd.
Imprint: Clarus Press
Pub date: 01 Jan 2007
Language: English
Number of pages: 280
Weight: 368g
This book is a collection and consolidation of the most frequently consulted legislation in Ireland relating to landlord and tenant law dating from Deasy's Act 1860 to 2007.
Contact Us
Contact Us
LegalBooks.ie
Legal & General Shop
The Law Society Building
The Four Courts
Dublin 7
01 8725522
info@legalbooks.ie
D07 N972

VAT number: IE4814267p


Payment & Security
Your payment information is processed securely. We do not store credit card details nor have access to your credit card information.