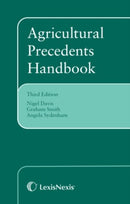 Description
Agricultural Precedents Handbook is a specialist publication providing those advising farmers and other members of the rural community with a comprehensive collection of time-saving and reliable precedents, accompanied by a very useful commentary. The precedents range from those dealing with the Basic Payment Scheme and the future of farm subsidies, acquisition and sale of agricultural property, to tenancies governed by the Agricultural Tenancies Act 1995, and the Agricultural Holdings Act 1986, residential tenancies, grazing agreements, alternative land uses, livery arrangements for horses, shooting leases, partnership agreements and contract and share farming arrangements, and commons. Agricultural Precedents Handbook is written by leading practitioners in this area and offers a library of precedents in twelve separate chapters, covering many of the types of transactions that are likely to be met in day to day practice.

A CD-ROM accompanying the book contains all of the precedents allowing users to download and adapt each document as necessary. There are over 100 precedents in the revised edition. The substantially revised third edition has been updated to take into account major developments in the law since the last edition in 2009, including the introduction of the Basic Payment Scheme and consideration of the future of farm subsidies leading up to and post Brexit, and the Agriculture Act 2018 with appropriate suggested wording for new documentation, changes to the model clauses regulations under the Agricultural Holdings Act 1986 as well as the tenancy succession application regime following the replacement of the Agricultural Land Tribunal by the First-tier Tribunal, and changes to the Agricultural Tenancies Act 1995.

In addition to the new precedents in this third edition, the latest forms required for succession applications on retirement and death in the First-tier Tribunal are included as well as updated tenancy agreements, forms of notice, and other documents all of which incorporate reference to current statutes as well as, where appropriate, the above.
Contact Us
Contact Us
LegalBooks.ie
Legal & General Shop
The Law Society Building
The Four Courts
Dublin 7
01 8725522
info@legalbooks.ie
D07 N972

VAT number: IE4814267p


Payment & Security
Your payment information is processed securely. We do not store credit card details nor have access to your credit card information.