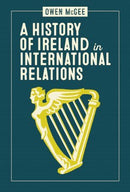 Description
This essential new history of the Irish state synthesises existing research with new findings, and adopts fresh perspectives based on neglected European and American debates. It examines the evolution of Irish diplomacy from six consulate officers in the 1920s to sixty ambassadors in the 2010s, and provides an overview of a century of Ireland's diplomatic history that has previously only been examined in a piecemeal fashion. The author's original research findings are focussed particularly on Ireland's struggle for independence in a global context, and his original analysis gives an account of how the economic performance of the Irish state formed a perpetual context for its role in international relations even when this was not a priority of its diplomats. Equal attention is paid to the history of international Irish trade, the operations of bilateral Irish relations, and multilateral diplomacy. It highlights how the Irish state came to find its role in international relations mostly by means of the UN and EU, and analyses this trend in the light of international relations theory and European history.
Format Paperback | 300 pages
Dimensions 156 x 234 x 27.94mm | 544.31g
Publication date 01 Jun 2020
Publisher Irish Academic Press Ltd
Publication City/Country Co.Kildare, Ireland
ISBN13 9781788551137
Contact Us
Contact Us
LegalBooks.ie
Legal & General Shop
The Law Society Building
The Four Courts
Dublin 7
01 8725522
info@legalbooks.ie
D07 N972

VAT number: IE4814267p


Payment & Security
Your payment information is processed securely. We do not store credit card details nor have access to your credit card information.