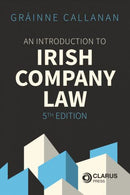 Description
Author: Gráinne Callanan
ISBN13: 9781911611622
Previous Edition ISBN: 9780717158454
Published: November 2021
Publisher: Clarus Press
Country of Publication: Ireland
An Introduction to Irish Company Law is an established and popular leading textbook on company law. It is written with the student reader in mind and designed to help in their understanding of the core principles of company law. It is essential for all students undertaking undergraduate company law and business courses in Ireland. This book is also recommended for those taking their professional accountancy examinations as well as legal professionals and business owners seeking to reacquaint themselves with company law.
Fully updated and revised since the last edition in 2015, this fifth edition includes the following updates:
-       Amendments to the Companies Act 2014 as a consequence of the Companies (Accounting) Act 2017, the Companies (Statutory Audits) Act 2018, The Companies (Amendment) Act 2019 and the Companies (Miscellaneous Provisions (Covid-19) Act 2020.
-       European Union (Anti-Money Laundering: Beneficial Ownership of Corporate Entities) Regulations 2019 ("the 2019 Regulations)
Updated case law including:
-       Gibbons v Doherty & ADT Investments Ltd [2020] IESC 72 (Pre-Incorporation Contracts)
-       O'Sullivan v Conroy Gold and Natural Resources Plc [2017] IEHC 54 (Company Constitution, Directors' Fiduciary Duties, Members' Rights)
-       Right to Know CLG v Raheenleagh Power DAC [2021] IEHC 46 (Character of a Company)
-       McGarry & McGarry v O'Brien [2017] IEHC 740 and Grenet v Electronic Arts Ireland Ltd [2018] IEHC 786 (Directors' Authority)
-       Stobart v Tinkler [2019] EWHC 258 and Re Blarney Woollen Mills Group [2015] IEHC 509 (Directors' Authority v Members' Powers)
-       Re Park Magic Mobile Solutions Ltd [2017] IEHC 287 (Rectification of Register of Members)
-       Kings Court Trust Ltd v Lancashire Cleaning Services Ltd [2017] EWHC 1094 (Death of Sole Member and Director)
-       Re Fintra Trawling Co Ltd [2016] IEHC 511 (Declaration of Personal Liability of Directors)
-       Re Jazz Pharmaceuticals Plc Unreported, High Court (Barniville J), 1 December 2020; and Re Hibernia
-       Reit Plc [2020] IEHC 144 (Reduction of Share Capital).
-       Re Keeping Kids Company Ltd [2021] EWHC 175 (De Facto Directors)
-       Re CF Booth Ltd [2017] EWHC 457 (Ch) (Directors' Fiduciary Duties and Dividend Policy)
-       Granada Group Ltd v The Law Debenture Pension Trust Corp Plc [2017] BCC 57 (Substantial Property Transactions)
-       In Re Appleyard Motors Ltd [2016] IECA 280 (Reckless Trading); and In Re Kelly's Trucks Ltd [2019] IEHC 6 (Fraudulent Trading)
-       Saggart Motors Ltd v NG Motors Ltd [2019] IEHC 390 (Derivative Actions)
-       In Re Seda (Skills and Enteprise Development Academy) Ltd [2019] IEHC 333 and In Re Emerald Isle Assurances and Investments Ltd [2019] IEHC 669 (remedies for oppression).
-       In Re Latzur Ltd (In Receivership) [2020] IEHC 592 (Automatic Crystallisation Clauses and Recrystallisation of Floating Charge).
-       In Re Begassa Ltd [2021] IEHC 110 (Section 440 and Borrowing Costs of Receivers).
-       In Re JJ Red Holdings Ltd [2016] IEHC 524 and In Re KH Kitty Hall Holdings Ltd [2017] IECA 247 (Settlement Agreements and Examinership).
-       In Re PPF Capital Source Ltd [2020] IECA 63 (Annulment of Winding Up Petition)
-       In Re MB Refrigeration and Air Conditioning Ltd (In Liquidation) [2016] IEHC 753 and In Re Churchboro Building Contractors Ltd [2020] IEHC 663 (Post-Commencement Dispositions);
-       In Re Custom House Capital Ltd (In Liquidation); Wallace v Cassidy & Ors [2016] IEHC 689 (Disqualification of Directors)
CONTENTS
Introduction
Promotion, formation and dissolution
The Constitution and Related Matters
The Separate Legal Personality
Corporate Capacity and Authority
Shares
Membership and Beneficial Interests
Maintenance of Company Capital
Directors and Secretary
General Duties of Directors
Directors Transactions and Interests
Personal Liability of Directors
Members Meetings and Decision Making
Minority Protection
Financial Statements and Reporting
Charges and Debentures
Receivers
Corporate Rescue
Winding-Up
Asset Realisation and Distribution
Restriction and Disqualification
Contact Us
Contact Us
LegalBooks.ie
Legal & General Shop
The Law Society Building
The Four Courts
Dublin 7
01 8725522
info@legalbooks.ie
D07 N972

VAT number: IE4814267p


Payment & Security
Your payment information is processed securely. We do not store credit card details nor have access to your credit card information.