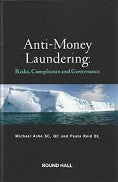 Description
Author : Michael Ashe, QC
Author : Paula Reid
Publisher: Round Hall
Publication Date: 20/11/2013
ISBN: 9781858006208
Jurisdiction: Ireland

This new work examines compliance and legal issues arising from the Criminal Justice (Money Laundering and Terrorist Financing) Act 2010. This legislation applies the Third Money Laundering Directive which sets a common standard throughout the EU.

* Focuses not only on the general legislative framework, but also on the Guidance issued by the Financial Regulator and other authorities which prescribes best practice.
* Addresses the crucial compliance issues arising from the risk-based approach to anti-money laundering procedures, along with the suspicious transaction reporting requirements; tipping-off and monitoring obligations.
* Examines the nature of the money laundering and terrorist financing offences as well as the numerous compliance offences created by the 2010 Act.
* Considers supervision and enforcement issues, as well as important legal issues such as privilege and civil liability.
Contact Us
Contact Us
LegalBooks.ie
Legal & General Shop
The Law Society Building
The Four Courts
Dublin 7
01 8725522
info@legalbooks.ie
D07 N972

VAT number: IE4814267p


Payment & Security
Your payment information is processed securely. We do not store credit card details nor have access to your credit card information.