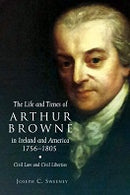 Description
ISBN: 9781846826221
Author: Sweeney
Date Published: 2017
Born in Rhode Island, Arthur Browne was a lawyer, a scholar, and a politician in the Ireland of the late eighteenth century and established a brilliant reputation in all three areas at a time of enormous conflict and upheaval. The pre-eminent maritime lawyer of his era, Browne was also an MP in the Irish parliament, and the Regius Professor of Civil and Canon Law at Trinity College Dublin, where he has been described as 'one of the most able and learned academic lawyers ever to teach there'. A brilliant and forceful debater, Browne opposed violent revolution, supported the Catholic cause, and became one of the most powerful liberal voices in the Irish parliament in the 1790s. His international reputation as a legal scholar was established by his two-volume study on the civil law and the law of the admiralty published in 1797 and 1799, a work that had a major influence around the world and especially on American maritime law. This new book explores how the American-born Browne became a leading figure in Irish law, academia and politics, and it provides a new perspective on his role in parliament during the controversial passing of the Act of Union in 1800.
Joseph C. Sweeney is the John D. Calamari Distinguished Professor of Law at Fordham University, New York.
Contact Us
Contact Us
LegalBooks.ie
Legal & General Shop
The Law Society Building
The Four Courts
Dublin 7
01 8725522
info@legalbooks.ie
D07 N972

VAT number: IE4814267p


Payment & Security
Your payment information is processed securely. We do not store credit card details nor have access to your credit card information.