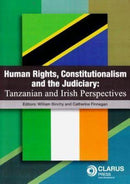 Description
William Binchy, Catherine Finnegan
ISBN:  9781905536047
Publisher: Clarus Press Ltd.
Imprint: Clarus Press
Pub date: 06 Jan 2006
Language: English
Number of pages: 373
This unique work examines themes of human rights, constitutionalism, and the role of the judiciary from an Irish and Tanzanian perspective. Several of Ireland's greatest legal minds have come together with their colleagues in Tanzania to produce this book, which examines a range of issues, including: constitutional rights * women and the law * gender and the law * minority rights * property rights * judicial review * procedure, electoral law * Tribunals of inquiry * environmental protection * media freedom * freedom of expression * judicial independence * judicial activism * the right to a fair trial. The editor notes that "it is fascinating to see how global values impact on national legal systems and how, so often, judges in Tanzania and Ireland, with different constitutional structures, have crafted similar solutions."
Contact Us
Contact Us
LegalBooks.ie
Legal & General Shop
The Law Society Building
The Four Courts
Dublin 7
01 8725522
info@legalbooks.ie
D07 N972

VAT number: IE4814267p


Payment & Security
Your payment information is processed securely. We do not store credit card details nor have access to your credit card information.