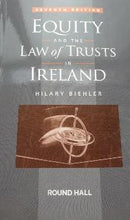 Description
Author: Hilary Biehler
Publisher: Round Hall
Published: 31/01/2020
ISBN: 9780414074606
Jurisdiction: Ireland
Now in its seventh edition, Equity and the Law of Trusts in Ireland provides a comprehensive treatment and analysis of this area of the law. This updated and expanded new edition examines recent developments in relation to both trusts and equitable remedies. While it focuses on reviewing and analysing the law in this jurisdiction, extensive reference is also made to the relevant principles as they have developed in England and Wales, where appropriate, in other common law countries such as Canada, Australia and New Zealand. Recognised as a key text by both students and practitioners, it also provides useful insights into likely future developments in this area of the law.
New to the 7th edition
-Examines significant recent judgments in this jurisdiction including the Supreme Court decisions in ACC Loan Management Ltd v Rickard [2019] IESC 29 and McGrath v Stewart [2016] 2 IR 704.
-Includes an expanded chapter on constructive trusts with more detailed material on institutional and remedial constructive trusts and the features of fiduciary relationships.
-Analyses recent developments in the law relating to the grant of interlocutory injunctions and specific performance.
-Contains analysis of a number of decisions of the Court of Appeal which have clarified the principle that it is necessary to establish evidence of undue influence or other wrongdoing in order to succeed in proceedings against a third party financial institution where the latter seeks to enforce a guarantee.
-Examines key decisions of the Supreme Court of the United Kingdom in this field, such as Patel v Mirza [2017] AC 467 (on illegality) and of the Privy Council, such as in Marr v Collie (on common intention constructive trusts).
-Incorporates updated and expanded material from other common law jurisdictions in areas such as the administration of trusts and proprietary estoppel.
Contents
- Introduction
- Maxims of Equity
- Trusts - An Introduction
- Trusts - Formalities and Essential Elements
- Secret Trusts
- Constitution of Trusts
- Resulting Trusts
- Constructive Trusts
- The Liability of Third Parties to Account in Equity
- Purpose Trusts
- Charitable Trusts
- Void and Voidable Trusts
- The Administration of Trusts
- Injunctions
- Specific Performance
- Rectification
- Rescission
- Equitable Estoppel
- Tracing
-Equitable Doctrines
About the Author
Hilary Biehler has practised as a barrister and is Professor of Public Law in Trinity College Dublin. She has written extensively in the fields of Equity and the Law of Trusts, Civil Procedure and Administrative Law and is the author of a number of Thomson Reuters Round Hall titles.
Contact Us
Contact Us
LegalBooks.ie
Legal & General Shop
The Law Society Building
The Four Courts
Dublin 7
01 8725522
info@legalbooks.ie
D07 N972

VAT number: IE4814267p


Payment & Security
Your payment information is processed securely. We do not store credit card details nor have access to your credit card information.