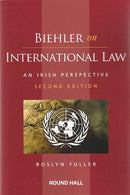 Description
Author: Roslyn Fuller 
Edition: 2 ed
ISBN: 9781858007144
Published:11 Oct 2013
Key features:
Gives students a clear understanding of the most important aspects of international law in relation to Ireland* Mirrors the structure of an international law course enabling students to find information they need quickly and easily* Explains the most relevant concepts, doctrines, treaties/legislation and cases in the area of international law with extensive notes on Irish cases and practices.

New to this edition:
This key second edition of Biehler on International Law includes important updates given on Irish neutrality and developments in peacekeeping operations, particularly participation in EU Battlegroups; the status of Northern Ireland; rendition, and drone strikes. It also contains increased detail on International Legal Procedures and the Law of Treaties, and new chapters on State Responsibility and the Law of the Sea, so that both lecturers and students are up to date on any new occurrence in the law. 

Contents:
The Concept of Sovereignty;
The State in International Law ;
The Sources of Law ;
The Relationship between Irish Law and International Law ;
Ireland in International Law ; The Use of Force An Irish Approach;
Neutrality and International Humanitarian Law;
The Law of the Sea; The Law of State Responsibility;
Participation and Procedure at International Institutions
Contact Us
Contact Us
LegalBooks.ie
Legal & General Shop
The Law Society Building
The Four Courts
Dublin 7
01 8725522
info@legalbooks.ie
D07 N972

VAT number: IE4814267p


Payment & Security
Your payment information is processed securely. We do not store credit card details nor have access to your credit card information.