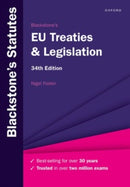 Description
by Nigel Foster (Author)
Series: Blackstone's Statute Series
Format: Paperback / softback 512 pages
Publisher: Oxford University Press
Edition: 34 Revised edition
ISBN: 9780198890423
Published: 21 Jul 2023
Unsurpassed in authority, reliability and accuracy; Blackstone's Statutes, trusted by students for over 30 years. Celebrating over 30 years as the market-leading series, Blackstone's Statutes have an unrivalled tradition of trust and quality. With a rock-solid reputation for accuracy, reliability and authority, they remain first-choice for students and lecturers, providing a careful selection of up-to-date legislation for exams and course use.
BL Clear and easy-to-use, helping you find what you need instantlyBL Edited by experts and covering all the key legislation needed for EU law courses, so you can use alongside your textbook to ensure you approach your assessments with confidenceBL Unannotated legislation - perfect for exam useBL Also available as an e-book with functionality and navigation features
Contact Us
Contact Us
LegalBooks.ie
Legal & General Shop
The Law Society Building
The Four Courts
Dublin 7
01 8725522
info@legalbooks.ie
D07 N972

VAT number: IE4814267p


Payment & Security
Your payment information is processed securely. We do not store credit card details nor have access to your credit card information.