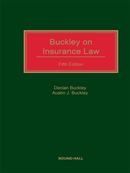 Description
Author: Austin Buckley 
Format: Hardback
Publisher: Round Hall Ltd
Edition: 5 ed
ISBN: 9780414090255
Published: 30 Nov 2021
Buckley on Insurance Law is the authoritative work on the subject of insurance law in Ireland, and is the reference of choice for all Irish practitioners. The book is now the acknowledged reference on matters of insurance law in Ireland and is cited authoritatively in the courts and in arbitrations.
The new edition reflects the considerable changes to Irish insurance law since the previous edition was published in 2016, most notably the Consumer Insurance Act 2019, and the considerable judicial analysis of business insurances and how such policies should be interpreted in light of the interruption to business caused by the COVID-19 pandemic.
Contents:
1. Insurance and the Law
2. Insurance Intermediaries
3. Duty of Disclosure
4. General Principles of Insurance
5. General Policy Terms and Conditions
6. Arbitration Condition
7. Claims Notification, Co-operation and Procedure
8. Policy Interpretation
9. Right of Action Against Insurers
10. Legal Libilities and Insurance
11. Public Liability Insurance
12. Products Liability Insurance
13. Professional Liability
14. Employers' Liability Insurance
15. Motor Insurance
16. Material Damage Insurance
17. Contractors' All Risks
18. Business Interruption Insurance
Contact Us
Contact Us
LegalBooks.ie
Legal & General Shop
The Law Society Building
The Four Courts
Dublin 7
01 8725522
info@legalbooks.ie
D07 N972

VAT number: IE4814267p


Payment & Security
Your payment information is processed securely. We do not store credit card details nor have access to your credit card information.