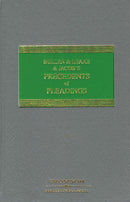 Description
Edited by: The Hon. Sir William Blair, Lord Daniel Brennan QC, The Rt. Hon. Sir Robin Jacob, The Hon. Sir Brian Langstaff
ISBN: 9780414105430
Previous Edition ISBN: 9780414071247
Published: June 2022
Publisher: Sweet & Maxwell Ltd
Country of Publication: UK
Format: Hardback, 2 Volumes & Supplement
Bullen & Leake & Jacob's Precedents of Pleadings is widely regarded as the essential guide to drafting statements of case. It offers the advocate a stock of authoritative, structured precedents of statements of case complete with guiding commentary across both mainstream and specialist areas of practice.
The 19th edition fully reflects all current issues under the CPR and the legislative and judicial developments in the individual practice areas.
•    Presents a wide range of contemporary templates for drafting which can be easily modified for specific cases
•    Covers all classes of litigation from common areas such as employment law to the more unusual such as sports law (109 chapters)
•    Contains example claims and defences
•    Provides specific practical guidance on each precedent
•    Written by an expert team of over 60 barristers
Subjects:
Common Law Library, Courts and Procedure
Contents:
Introduction
Arbitration
Assault, False Imprisonment & Malicious Prosecution
Assignment of Contractual Rights
Aviation
Banking & Financial Services
Business Law
Competition
Computers & IT
Construction
Defamation
Education
Employment
Entertainment Law
Environmental Claims
Fraud
Harassment
Human Rights & References to the ECJ
Immigration
Insurance
Intellectual Property
Invasion of Privacy
Judicial Review
Personal Injury
Professional Negligence
Property
Restitution
Contact Us
Contact Us
LegalBooks.ie
Legal & General Shop
The Law Society Building
The Four Courts
Dublin 7
01 8725522
info@legalbooks.ie
D07 N972

VAT number: IE4814267p


Payment & Security
Your payment information is processed securely. We do not store credit card details nor have access to your credit card information.