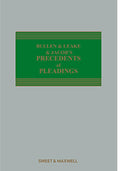 Description
19th Edition
ISBN: 9780414071247
Published by: Sweet & Maxwell
General Editors:The Hon Sir William Blair; Lord Dan Brennan, QC; The Right Hon Professor Sir Robin Jacob; The Hon Sir Brian Langstaff
Publication Date: 31 Dec 2019


Bullen & Leake & Jacob's Precedents of Pleadings is widely regarded as the essential guide to drafting statements of case. It offers the advocate a stock of authoritative, structured precedents of statements of case complete with guiding commentary across both mainstream and specialist areas of practice.

Presents a wide range of contemporary templates for drafting which can be easily modified for specific cases
Covers all classes of litigation from common areas such as employment law to the more unusual such as sports law (109 chapters)
Contains example claims and defences
Provides specific practical guidance backed up by legislative and case law developments on each precedent
Written by an expert team of over 60 barristers

The 19th edition fully reflects all current issues under the CPR and the legislative and judicial developments in the individual practice areas. A whole raft of new case law is incorporated into the text, and existing precedents are amended and new ones included. The Introduction to the Work is fully revised and various chapters, such as Banking & Financial Services, Discrimination at Work & Harassment, Fraud, Immigration, Intellectual Property and Property have been fully revised and updated.


The commentary takes into account legislative updates such as:


Air Navigation Order 2016 and Air Navigation (Amendment) Order 2019 (drones)
Consumer Rights Act 2015
Damages for Bereavement (Variation of Sum) (England and Wales) Order 2013
Data Protection Act 2018 & Regulation (EU) 2016/679 ("the GDPR")
Electronic Presentment of Instruments (Evidence of Payment and Compensation for Loss) Regulations 2018 (SI 2018/832)
Financial Services and Markets Act 2000 (Amendment) (EU Exit) Regulations 2019 (SI 2019/632)
Financial Services and Markets Act 2000 (Claims Management Activity) Order 2018 (SI 2018/1253)
Financial Services and Markets Act 2000 (Benchmarks) Regulations 2018 (SI 2018/135)
Insurance Act 2015
Intellectual Property (Unjustified Threats) Act 2017
Mortgage Credit Directive Order 2015 (SI 2015/910)
Package Travel and Linked Travel Arrangements Regulations 2018 (SI 2018/634)
Payment Services Regulations 2017 (SI 2017/752)
Policing and Crime Act 2017
Small Business, Enterprise and Employment Act 2015
Taking Control of Goods Regulations 2013 (SI 2013/1894); Taking Control of Goods (Fees) Regulations 2014 (SI 2014/1)
The Pubs Code etc. Regulations 2016 (SI 2016/790)
Third Parties (Rights against Insurers) Act 2010
Trade Union Act 2016
Trade Secrets (Enforcement etc) Regulations 2018 (SI 2018/597)
Contact Us
Contact Us
LegalBooks.ie
Legal & General Shop
The Law Society Building
The Four Courts
Dublin 7
01 8725522
info@legalbooks.ie
D07 N972

VAT number: IE4814267p


Payment & Security
Your payment information is processed securely. We do not store credit card details nor have access to your credit card information.