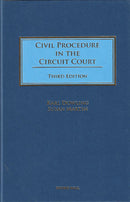 Description
Author: Karl Dowling
Author: Susan Martin
Publisher: Round Hall
Publication Date: 30/11/2018
ISBN: 9780414067257

Civil Procedure in the Circuit Court, third edition, provides the practitioner with a comprehensive and definitive analysis of civil practice and procedure in this Court. It provides an extensive commentary of the Circuit Court Rules, referring to reported and unreported decisions of the courts, legislation and practice directions.

The work includes in-depth analysis of the day-to-day activities dealt with by the Circuit Court, and the new edition comprehensively deals with the 2017 changes to the probate jurisdiction of the Circuit Court following the commencement of s.47 of the Civil Liability Act 2004.


Contact Us
Contact Us
LegalBooks.ie
Legal & General Shop
The Law Society Building
The Four Courts
Dublin 7
01 8725522
info@legalbooks.ie
D07 N972

VAT number: IE4814267p


Payment & Security
Your payment information is processed securely. We do not store credit card details nor have access to your credit card information.