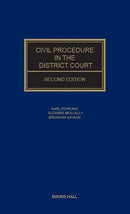 Description
Civil Procedure in the District Court 2nd Edition
Author : Karl Dowling
Author : Suzanne Mullally
Editor : Brendan Savage
Publisher: Round Hall
Publication Date: 31/12/2014
ISBN: 9780414036970

Written by practitioners for practitioners, this text book is an invaluable reference guide to the expansive District Court (Civil Procedure) Rules 2014 introduced in February 2014 which brought in sweeping changes to practice and procedure in the District Court. As the new rules provide for entirely new procedures and forms of pleading, this comprehensive guide to the rules which also incorporates case law will also be of considerable assistance in the institution of proceedings and the preparation for trial of any hearing in the District Court.

The new edition provides the practitioner with up to date comprehensive and definitive analysis of civil practice and procedure in District Court to take account of the sweeping changes introduced by the new District Court (Civil Procedure) Rules 2014. It is an extensive commentary of the District Court Rules, referring to reported and unreported decisions of the courts, legislation and practice directions.


Key features
* Is an easy-to-understand reference that provides you with invaluable analysis and interpretation
* Provides a step-by-step guide to civil practice in the District Court
* Gives you an extensive analysis of the amended jurisdiction of the District Court pursuant to the District Court (Civil Procedure) Rules 2014.
* Is up-to-date and including all important case law and legislation.
* Ensures that you have the most up to date reference for practice and procedure in the District Court as it currently stands.
* Gives you confidence in Court as you can be sure of the exact practice and procedure as implemented by the new Rules
* Saves you time as for the first time you have concise interpretation and application of the new 2014 Rules applicable in the District Court.

New to this edition
* All chapters have been revised and rewritten to take account of the sweeping changes introduced by the implementation of the new District Court (Civil Procedure) Rules 2014, leading to a major overhaul of existing practice and procedure
* Deals with legislative changes introduced in specific areas of law such as conveyancing law (see Land and Conveyancing Law Reform Act 2009), and family law (see Civil Partnership and Certain Rights and Obligation of Cohabitants Act 2010)
* Text updated to include entirely new forms of pleading which have been introduced
* New chapters have been included on Appearance and Defence
* Deals with the new rules on discovery and particulars
* Guide to the entirely new procedure of setting matters down for trial in the District Court
* Many chapters have been expanded to cover areas not previously addressed in previous editions

Contents
Jurisdiction; Commencement of Proceedings; Personal Injuries Actions; Service; Appearance; Defence and Lodgment; Pleadings; Parties; Third Party Procedure; Joinder and Transfer of Actions; Discovery and Inspection of Documents; Striking out, Dismissal, Discontinuance and Settlement of Proceedings; Trial and Evidence; Appeals and Case Stated Procedure; Judgment, Orders and Enforcement; Costs; Security for Costs; Small Claims Procedure; Intoxicating Liquor Licensing; Family Law and Child Care; Landlord and Tenant Proceedings and Housing; Other proceedings of a civil nature

About the Authors
Karl Dowling, LL.B., LL.M., Barrister-at-Law, Attorney-at-Law (New York) is a practising Barrister and the author of Civil Procedure in the Circuit Court and Equity and Trusts Nutshell and a contributor to the Irish Commercial Precedents Service in the areas of bankruptcy, insolvency and debt recovery. Prior to being called to the Bar of Ireland, he worked for a number of years with Pearts Solicitors.

Suzanne Mullally B.L. is a practicing barrister. Suzanne previously edited the Family Law chapter in the first edition of this book, has been a Reporter with the Irish Reports since 2007,
Contact Us
Contact Us
LegalBooks.ie
Legal & General Shop
The Law Society Building
The Four Courts
Dublin 7
01 8725522
info@legalbooks.ie
D07 N972

VAT number: IE4814267p


Payment & Security
Your payment information is processed securely. We do not store credit card details nor have access to your credit card information.