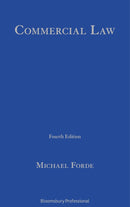 Description
By: Michael Forde
Published: 15-10-2020
Format: Hardback
Edition: 4th
Extent: 600
ISBN: 9781780436906
Commercial Law, 4th edition covers consumer law initiatives based on EU directives, plus significant commercial case law. It outlines the emergence of and variety in regulation regimes and deals with insolvency rules in Ireland as well as the credit union sector.

Includes the following case law and legislation:
McIlroy v Horizon Sports, HC (set for October 2014);
Quinn v IRBC (set for early 2015);
Darlington Properties v Meath County Council [2010] IEHC 70;
Google Spain and Google Inc v AEPD C-131/12.

Consumer Protection Act 2007;
Defamation Act 2009 ;
Legal Services Ombudsman Act 2009;
Companies (Amendment) Act 2009;
Enactment of Treaty of Lisbon in 2009;
The EC (Payment Services) Regulations, 2009;
Arbitration Act 2010;
29th Amendment of the Constitution (Judges' Remuneration) Act 2011 ;
Personal Insolvency Act 2012.
Contact Us
Contact Us
LegalBooks.ie
Legal & General Shop
The Law Society Building
The Four Courts
Dublin 7
01 8725522
info@legalbooks.ie
D07 N972

VAT number: IE4814267p


Payment & Security
Your payment information is processed securely. We do not store credit card details nor have access to your credit card information.