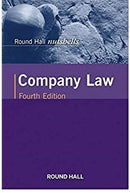 Description
Company Law
Publisher: Round Hall
Publication Date: 15/01/2018
ISBN: 9780414065093
Jurisdiction: Ireland

Round Hall Nutshells is a series of books presenting the essentials of the law in clear, straightforward language.
Designed with the busy student in mind, the Nutshell is perfect for exam preparation, with brief, clear explanations of key exam topics throughout.

This new edition of Company Law provides the student and practitioner with an up to date and accessible overview of Irish company law and will be invaluable to students preparing for university and professional exams in law and accountancy, and busy practitioners, and company directors and officers and their advisers. The book follows major legislative change in the Companies Act 2014 and the Companies Accounting legislation 2016 and 2017.

The new Companies Act 2014, operative July 2015, repeals and replaces all previous companies? legislation and introduces new company types. New legislation in 2016 and 2017 changes the law governing company accounts and auditing, including changes to the public reporting requirements of unlimited companies and the rules regarding the obligation to have certain companies? accounts audited, as well as new requirements relating to the qualification and supervision of auditors. Case law developments since the last edition developed the law relating to restriction and disqualification of directors; reckless trading and personal liability of directors and officers.

New to this edition:
*Deals with the legislative changes made by the Companies Act 2014 and all subsequent legislation including the Companies (Accounting) Act 2017
*All chapters have been revised and rewritten to incorporate recent developments, and many have been expanded to cover areas not previously addressed in previous editions
*Covers all major aspects of Irish Company Law including general concepts, types of company, formation, management, regulation, borrowing and security, shareholder rights and remedies, directors duties, accounts and audit, examinership, windings up, mergers and divisions
Contact Us
Contact Us
LegalBooks.ie
Legal & General Shop
The Law Society Building
The Four Courts
Dublin 7
01 8725522
info@legalbooks.ie
D07 N972

VAT number: IE4814267p


Payment & Security
Your payment information is processed securely. We do not store credit card details nor have access to your credit card information.