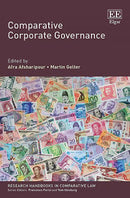 Description
Edited by Afra Afsharipour, Professor of Law and Senior Associate Dean for Academic Affairs, University of California, Davis, School of Law and Martin Gelter, Professor of Law, Fordham University School of Law, US

Publication Date: 2021
ISBN: 9781788975322
Extent: 544 pp
This research handbook provides a state-of-the-art perspective on how corporate governance differs between countries around the world. It covers highly topical issues including corporate purpose, corporate social responsibility and shareholder activism.
Through coverage of key jurisdictions in Asia, Europe and the Americas, this research handbook reveals differences and similarities between legal traditions that have shaped different countries' laws, and the extent to which these laws have become more similar over the past decades. It takes a broad perspective throughout comparative corporate governance, considering the rights and duties of shareholders, including controlling and minority shareholders, directors and the relationship between their powers. Chapters address key topics such as the methods and goals of comparative corporate governance research and enforcement of corporate governance.
Informative and perceptive, Comparative Corporate Governance will be a key resource for academics and students in commercial law, comparative law and government studies. Internationally oriented corporate law practitioners and law firms will also be interested in the legal information contained in the chapters.
Contact Us
Contact Us
LegalBooks.ie
Legal & General Shop
The Law Society Building
The Four Courts
Dublin 7
01 8725522
info@legalbooks.ie
D07 N972

VAT number: IE4814267p


Payment & Security
Your payment information is processed securely. We do not store credit card details nor have access to your credit card information.