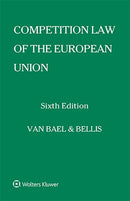 Description
By: Van Bael & Bellis (blank)
ISBN: 9789041153982
Published:1 Mar 2021
Competition Law of the European Union provides a comprehensive analysis of the EU competition rules as developed primarily by the Commission, the General Court and the Court of Justice. The new Sixth Edition of a major work by the well-known competition law team at Van Bael & Bellis in Brussels reflects the many developments in the case law and relevant legislation that have occurred since the Fifth Edition in 2010. This edition follows the successful format of previous editions in covering all substantive and procedural aspects of the EU antitrust rules and merger control, as well as including a much-extended chapter on private enforcement and, for the first time, a dedicated section on competition law in the pharmaceutical sector
What's in this book:
In this comprehensive new edition, the authors examine such notable developments as the following:
-       important rulings concerning the concept of a restriction by object under Article 101;
-       the extensive case law in the field of cartels, including in relation to cartel facilitation and price signalling;
-       important rulings of Article 102 concerning pricing and exclusivity, including the Post Danmark and Intel judgments, as well as standard essential patents;
-       the current block exemption and guidelines applicable to vertical agreements, including those applicable to the motor vehicle sector;
-       developments concerning online distribution, including the Pierre Fabre and Coty rulings;
-       the current guidelines and block exemptions in the field of horizontal cooperation, including the treatment of information exchange;
-       the evolution of EU merger control, including court defeats suffered by the Commission and the case law on procedural infringements;
-       the burgeoning case law related to pharmaceuticals, including in respect of reverse payment settlements;
-       the current technology transfer guidelines and block exemption;
-       procedural developments, including in relation to the right to privacy, access to file, parental liability, fining methodology, inability to pay and hybrid settlements;
-       the implementation of the Damages Directive and the first interpretative rulings.
-       How this will help you:
With an attempt to cut through the theoretical underpinnings of EU competition law to expose its actual impact on business, this book combines a critical commentary on the rules with practical guidance on their application. One of its kind, this book is an authoritative new edition of a classic work that proves to be of immeasurable value to both business persons and their legal advisers.
Table Of Contents:
Preface
About the Authors
Introduction
Developments Since the Fifth Edition
CHAPTER 1
Institutions
CHAPTER 2
Basic Principles
CHAPTER 3
Vertical Agreements
CHAPTER 4
Horizontal Agreements: Cartels
CHAPTER 5
Horizontal Agreements: Joint Ventures and Other Cooperation Agreements
CHAPTER 6
Intellectual Property
CHAPTER 7
Control of Mergers, Acquisitions and Certain Joint Ventures
CHAPTER 8
Abuse of a Dominant Position
CHAPTER 9
Antitrust and the State
CHAPTER 10
Procedure
CHAPTER 11
Private Enforcement
CHAPTER 12
Special Sectors
ANNEX I
Basic Competition Provisions of the treaty on the Functioning of the European Union
ANNEX II
Common Names Used for Legislation, Notices, Guidelines and Other Commission Documents
Tables of Cases
Index
Contact Us
Contact Us
LegalBooks.ie
Legal & General Shop
The Law Society Building
The Four Courts
Dublin 7
01 8725522
info@legalbooks.ie
D07 N972

VAT number: IE4814267p


Payment & Security
Your payment information is processed securely. We do not store credit card details nor have access to your credit card information.