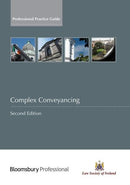 Description
Published: 31-01-2012
Format: Paperback
Edition: 2nd
About Complex Conveyancing
Complex Conveyancing is written both for the guidance of trainee solicitors attending the Law Society of Ireland's Law School and conveyancing practitioners who wish to revisit complex areas of conveyancing, property and landlord and tenant law.

The topics covered include complex unregistered titles: land registration and complex dealings in the Land Registry; voluntary deeds and ethical issues; farm conveyancing; property held by religious orders; the impact of the food hygiene and safety, health and welfare at work legislation on conveyancing practice; full repairing and insuring leases; companies and commercial lending; acting for a builder or developer; new and second hand apartments; mixed residential developments; mixed developments and international property. Finally, this text gives an overview of some tax issues arising on the sale or purchase of investment property.
Table Of Contents
Chapter 1 Introduction;
Chapter 2 Complex Unregistered Titles and Title Research;
Chapter 3 Land Registry - Complex Dealings;
Chapter 4 Voluntary Deeds, Undertakings and Ethical Issues;
Chapter 5 Farm Conveyancing;
Chapter 6 Apartments;
Chapter 7 Mixed Use Developments;
Chapter 8 Dealing with Companies and Commercial Lending;
Chapter 9 Full Repairing And Insuring Leases: The Landlord's Viewpoint;
Chapter 10 Full Repairing and Insuring Leases: The Tenant's Viewpoint;
Chapter 11 Property Issues in Insolvency;
Chapter 12 Complex Requisitions;
Chapter 13 The Impact of Safety, Health and Welfare at Work Legislation on Conveyancing Practice;
Chapter 14 Dealing with Property of Religious Orders, Diocesan Persons and Charities;
Chapter 15 International Property.
Contact Us
Contact Us
LegalBooks.ie
Legal & General Shop
The Law Society Building
The Four Courts
Dublin 7
01 8725522
info@legalbooks.ie
D07 N972

VAT number: IE4814267p


Payment & Security
Your payment information is processed securely. We do not store credit card details nor have access to your credit card information.