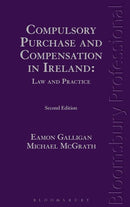 Description
Published: 31-10-2013
Format: Hardback
Edition: 2nd
About Compulsory Purchase and Compensation in Ireland: Law and Practice
Compulsory Purchase and Compensation in Ireland comprises a comprehensive inventory of compulsory purchase powers by various State and semi-State bodies in Ireland, together with a detailed and practical analysis of the law of compensation in respect of compulsory purchase.

Divided into two highly practical sections, this 2nd edition key title provides the busy practitioner with a comprehensive guide to the complex subject of compulsory purchase and compensation. Drawing on a wealth of learning and experience, the author will unravel the intricacies of the present law and practice, and clearly present the advice and guidance legal practitioners working in this area will require. Part one deals with the voluminous statute law governing compulsory purchase powers and procedures. Part two covers the equally important topic of assessment of compensation. A must-have book for all practitioners specialising in property and land law.
Contact Us
Contact Us
LegalBooks.ie
Legal & General Shop
The Law Society Building
The Four Courts
Dublin 7
01 8725522
info@legalbooks.ie
D07 N972

VAT number: IE4814267p


Payment & Security
Your payment information is processed securely. We do not store credit card details nor have access to your credit card information.